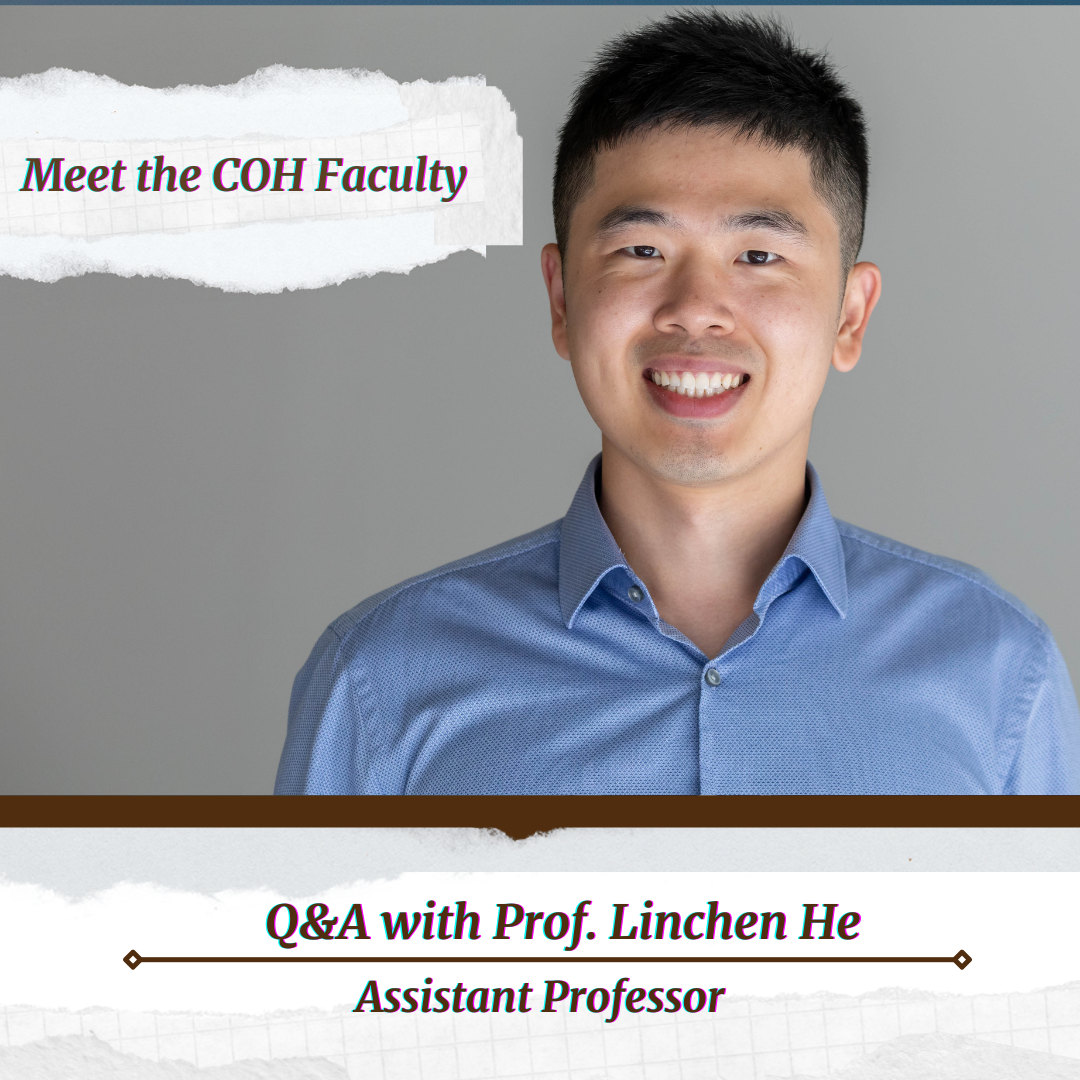 Faculty profile: Meet Linchen He
By Esha Soni '24
Linchen He is an environmental health scientist exploring the health effects of conventional and emerging environmental risk factors (e.g., air pollution and climate change-related exposures) and the underlying pathophysiologic pathways. He comes to Lehigh from the Johns Hopkins University Bloomberg School of Public Health, where he conducted his postdoctoral research. He received his Ph.D. in Environmental Sciences and Health, an MA in Environmental Epidemiology, and a Master's degree in Environmental Management from Duke University.
Q: Where did you grow up?
He: I grew up in China, in a city called Hangzhou. It's about a two hour drive from Shanghai, in the eastern part of China.
Q: What were you doing before Lehigh?
He: Before I joined Lehigh, I was doing my postdoctoral research at Johns Hopkins University School of Public Health.
Q: Where did you study and earn your degrees?
He: I got my bachelor's in environmental engineering at Shanxi University in China. During that time, I got a minor in economics. Later, I joined Duke University to finish my first master's degree in environmental management. After that, I worked in a lab at Duke for another year and applied for a Ph.D program also at Duke. I got my Ph.D in environmental science and health and another master's degree in environmental epidemiology. 
Q: How was your transition from learning in China to the US?
He: I kind of had a cultural shock when I was transitioning from my undergraduate program to my graduate program at Duke. My undergraduate program required students to do lots of homework to reinforce their memory of the knowledge learned from books. On the other hand, my graduate program was more practical. I have to do lots of reading, more based on your interests.
Q: What is your specific area of interest? 
He: My research interest is to investigate the conventional and emergent, environmental and risk factors, such as air pollution, climate change, heat exposure risk factors, including heat and air pollution as well and also other sorts of risk factors.
Q: How did you incorporate your interests for economics in environmental health?
He: I like the way economists think about the world. Some people in the environment, [environmental scientists], could sometimes be too optimistic. Due to my background in Environmental Engineering, I'm thinking more about solving a specific environmental problem. Those economics concepts could help me solve environmental problems in an effective way. The environment is a very complex system, and solving environmental problems is also complicated. We should address them from many different perspectives.
Q: What are your current research projects?
He: Previously, our research group conducted an interventional study in China. We tested the effectiveness of indoor air purifiers in reducing personal air pollutant exposures and improving asthma symptoms. This study has proved that air purifiers can effectively reduce personal exposure to particulate matters (PM2.5) and help with asthma control. Using the data collected in this study, I am doing secondary data analysis, aiming to investigate how changes in personal temperature exposures affect asthma symptoms and to explore the underlying biological mechanisms.
Q: Are there any new research topics or areas you'd like to explore?
He: I will spend more time exploring the health impacts of climate change related environmental health risk factors.
Q: What brought you to Lehigh?
He: Working here is a great opportunity to pursue my interests. Here at Lehigh, I have colleagues that can find the potential of my research. I have many research ideas, while I don't have enough time to work on them. I hope to work with students and researchers to promote environmental health sciences. Also, I like teaching, and I feel great helping the growth of next-generation health workers.
Q: What classes are you currently teaching?
He: I'm currently teaching BSTA 103. It's a class teaching students how to use our R studio to address statistical problems.
Q: Any hobbies?
He: I like playing guitar. I'm also a tennis lover, and like playing tennis with my wife. 
Q: Cats or dogs
He: Definitely dogs.