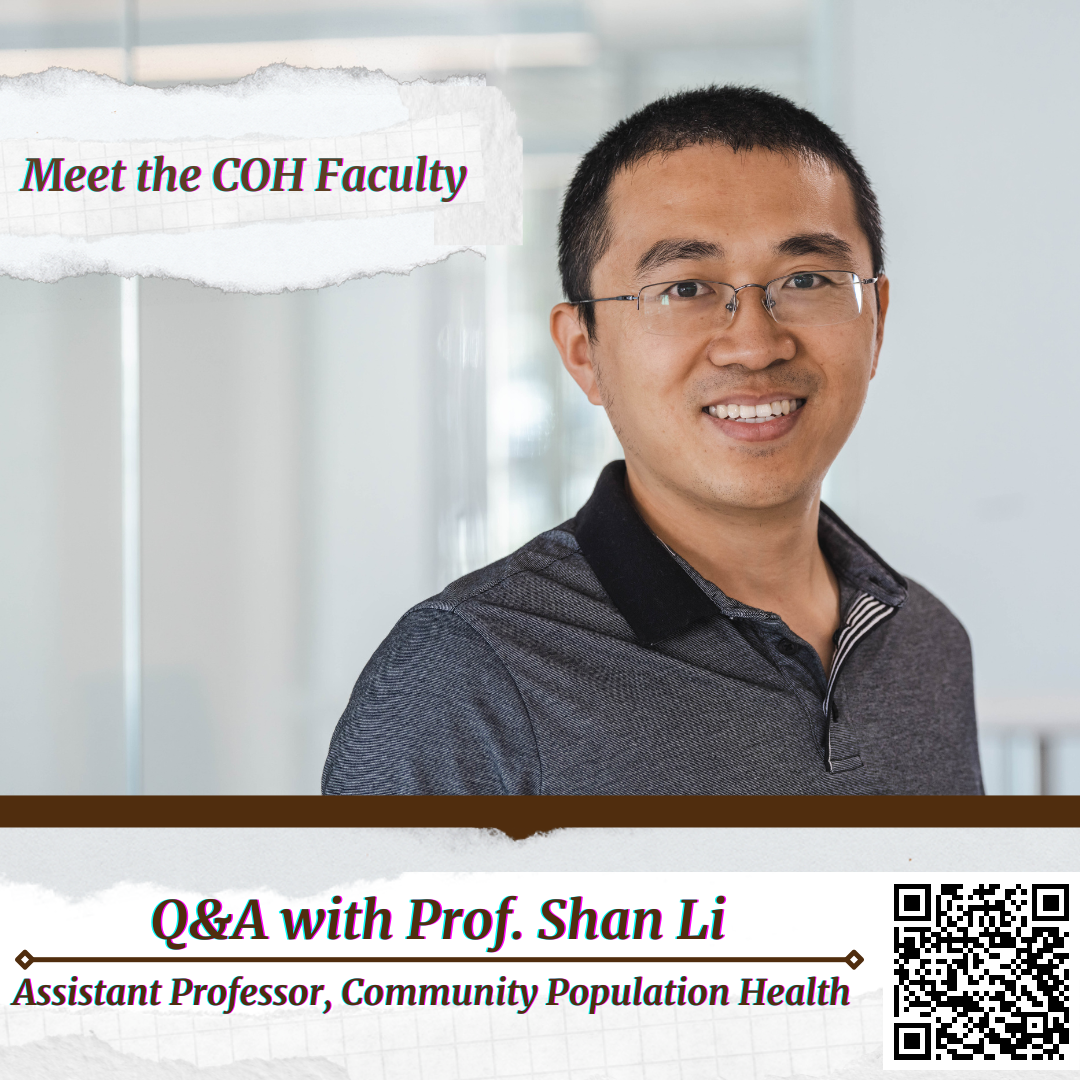 Faculty profile: Meet Shan Li
By Esha Soni, '24 & Carson Snyder, '23
Dr. Shan Li is an Assistant Professor in the College of Health at Lehigh University. He is also an affiliated faculty member in the Department of Education and Human Services. He received a B.S. in Educational Technology from Beijing Normal University and his Ph.D. in Educational Psychology from McGill University.
Dr. Li is an educational technologist who is researching both learning and teaching in formal and informal settings within the health professions. His overarching research goal is to understand and enhance health professions education (HPE) by: (1) designing intelligent learning and training systems for the classroom and real-world applications, (2) examining students' learning process in the dimensions of behavior, cognition, metacognition, emotion, and motivation, and (3) using the state-of-art computational techniques to reveal performance differences among learners. To accomplish this goal, he collects multimodal multichannel data about the context of learners, such as facial expressions, eye tracking, physiological sensors, think-aloud protocols, log files, and human-computer interactions. He applies advanced learning analytics and data mining techniques to reveal significant cognitive, metacognitive, affective, and motivational processes of student learning.
Q: What did your educational journey look like?
Li: I grew up in the Shandong province, which is in the eastern part of China. I got my undergraduate bachelors degree at my hometown university in Shandong and then went on to Beijing Normal University to study Educational Technology. After studying this program, I went into the educational technology industry for two years. Following that, I decided I wanted to stay in academia, so I did my Ph.D. at McGill University in Canada. 
Q: How has your background in education and technology influenced your decision to go into health professions?
Li: During my doctoral study, I spent six years working on an intelligent tutoring system for medical students who were practicing their clinical reasoning skills. These medical students could diagnose virtual patients on the platform, allowing them to gain expertise without having to go to the hospital. From this one system, we developed different kinds of advanced learning technologies for health professionals. Professionals who want to be educators must know educational theories and instructional strategies. To do so, these developed platforms allow them to use advanced technologies to enhance their competency in these educator skills. My research for this field is mainly focused on Health Professional Education, which is dedicated to improving education for all ages.
Q: What is the overlap between your two faculty roles at Lehigh?
Li: I see a lot of overlap between the research of the College of Health and the Department of Education and Human Services. If you want to deep dive into learning technology, you need to hire somebody who has expertise in educational technology as well as knowledge in the Health Professional Education program. As the one in that role, I see myself as the bridge between the two colleges. My long-term goal is to develop a Health Professional Education program at Lehigh, where I can bring together the faculties of the two colleges and promote effective educator strategies that are taught in the program. To promote the Health program, I have to communicate these strategies to faculty and give them knowledge about it. 
Q: Since this is your first time being a professor, how has the role been so far and what has the transition been like?
Li: I feel very supported by the faculties and administration staff of both the College of Health and the Department of Education. Since I am 50/50 between both colleges, it requires a lot of joint appointments and coordination. 
Q: What are your current research projects/any you have done?
Li: In my current research, I use artificial intelligence. In my research, I collect a lot of data about student facial expressions and use machine learning algorithms to predict student engagement levels based on their expressions. I try to use data mining techniques to find student problem-solving patterns from their behavior trace data and their learning progress data. My professional goal for the College of Health is to build an Institute or Research Center that is focused on the intersection of artificial intelligence and health professional education. I want to bring together faculty from cultural education and computer science, so we can work together to use artificial intelligence to explore ways to promote health professional education. 
Q: Are there any new research topics or areas you'd like to explore at Lehigh?
Li: This semester, I am starting a new project focused on health nutrition literacy. I feel like a lot of people lack knowledge of nutrition literacy, so I want to develop something that will enhance this literacy for the general public. For example, when you go into the grocery store, it is sometimes difficult to make the optimal choice for yourself when choosing a product. Especially for those who have dietary restrictions, it is important that they understand nutrition labels and how they relate to the function of the body. So I want to develop a computer simulation of real-world scenarios to help build knowledge in people around nutrition labels. For example, the simulation may ask you to pick a certain energy drink for when you are tired. The system will record your answers and then seek out patterns of consumer habits and trends when it comes to nutrition labels. 
Q: What brought you to Lehigh?
Li: Lehigh has a great environment. Aside from being close to New York and Philadelphia, Lehigh is a small university where you can get to know each other. Everyone is very friendly and you can get a lot of collaborative opportunities. It is easy to develop relationships with other faculties across different departments. 
Q: What classes are you currently teaching and what classes are you teaching next spring?
Li: This fall, I was teaching an introductory graduate class at the College of Education. In the spring, I am teaching a Technology, Stimulation, and Health course. As of now, I only have two students in my class, so if no one else registers for the course, it won't be taught. In the course, I plan to introduce different kinds of learning technologies for health promotion and education. For example, talking about emotions and emotion detection techniques in health contexts. This would include learning about virtual reality, social media cyber-safety, different types of technology, and how they all relate to health. I feel like this would be an interesting course, so I was surprised that so few students signed up. 
Q: Do you have any hobbies?
Li: I've played badminton for more than 10 years, and I've been able to find a badminton club in Bethlehem to play once a week.

Q: Cats or dogs?
Li: I can't say because I am not an animal person.