What is Population Health?
Population health, a part of the larger field of public health, is the science of understanding the multiple determinants of health, from cell to society. It is a data science that provides critical insights that stand to make an impact on millions of lives. Population health scientists leverage data to define opportunities for interventions to improve the health of populations. These interventions can range from health innovation and technology for improved health care to community health programs to health policy—all to optimize health outcomes.
The population health pyramid depicts the connections among all of the factors that impact health and well-being, on both the micro- and macro-scale: everything from water and air quality to race and ethnicity, genetic makeup to economic conditions and policy decisions.
The Population Health Pyramid
These are the layers of the population health pyramid:
Individual Factors
Societal Factors
Outcomes
Keep scrolling to learn more.
1. Individual Factors
Both our unique genetic makeup and the decisions we make about how we live play a major role in shaping our health. These choices run the gamut from how often we exercise to how healthfully we eat to our overall habits.
2. Environmental Factors
The communities we live in also play a significant role in shaping our health and the arc of our life experience. Different populations have different levels of access to clean air or clean water, healthy food, safe modes of transportation and countless other variants.
3. Health Disparities
Populations can be defined by gender, ethnicity, race, age, socioeconomic status and other factors, with certain groups facing their own unique health challenges.
Certain health outcomes, either positive or negative, are seen more often in certain populations than others.
4. Upstream Forces
There are numerous complex, broad-based forces that shape the health of individuals, populations and communities. These forces include political and economic forces, cultural, spiritual and social norms, and technological advances, among many others.
Seeking Answers Through Data
Population health scientists leverage data to unlock critical insights into all of the factors that shape health, and seek to develop interventions that can improve the lives of millions.
Innovative Interventions
Population health interventions can be implemented anywhere on the population health pyramid, and can have substantial impact on the health of individuals, families, communities and entire populations.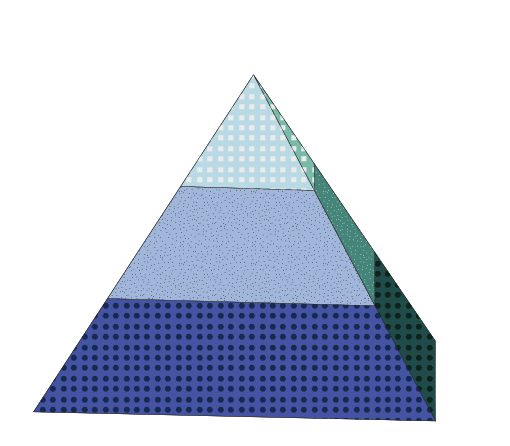 FAQs
Review our frequently asked questions below to learn more about the College of Health and read the top questions about the Population Health major and the Population Health certificate programs.
The decision to launch this new College of Health comes at a time of historic evolution—and great challenge—in both health and the health care industry. It also comes at a time of excitement and change in how leaders in health care, academia, government and industry are thinking, more broadly than ever before, about the concept of health.
Job growth in health care is increasing at a rate that far outpaces most other sectors, and total domestic health care spending as of 2017 stood at nearly 18 percent of the total Gross Domestic Product in the United States, according to the Centers for Medicare & Medicaid Services. At the same time, unconventional, data-driven and interdisciplinary approaches to data analysis are opening up potentially groundbreaking opportunities to address some of society's most pressing health care issues.
Given these shifting dynamics, we are intentionally launching the College with a focus on population health. The College of Health represents a rare opportunity to change the landscape of research, education and service in a field with impact on a global scale. Driven by innovation and technology, the College will become a destination for talented students and top researchers who are seeking opportunities for leadership and impact. We have confidence that our faculty, students and graduates will engage in influential research, policy and practice that stands to improve the health and well-being of our local, national and global communities.
First, our College is the first in the nation to offer an undergraduate and graduate degree in population health with a focus on health innovation and technology. Current job trends clearly indicate an ever-increasing need for professionals trained, at the undergraduate level, in population health. Our degree programs help address that need, both domestically and internationally. We are committed to training the next generation of creative and diverse scientists and leaders in population health.
Second, our interdisciplinary focus allows us to easily draw on the expertise from faculty in Lehigh's four existing colleges, and our global perspective distinguishes our College from others in the field.
Finally, our College is highly focused on innovation and in driving for solutions in health and health care. We leverage external partnerships—in both academia and industry—to position the College at the very forefront of the world of population health.

The College welcomed its inaugural class during the 2020-2021 academic year. Further information about the College's degree programs, career opportunities, application processes and more can be found on our Undergraduate Programs page.
The College is committed to developing a curriculum that trains the next generation of innovative and diverse scientists and leaders in population health. Signature degree programs include the undergraduate Bachelor of Science in Population Health and a suite of certificate programs in population health; the Master of Science in Population Health and the Master of Public Health; the Doctor of Philosophy in Population Health; and customized dual degree programs with each of Lehigh's existing colleges.
In support of this goal, the College has considered ideas that include high-impact, experiential learning opportunities for students, including research alongside faculty and graduate student mentors; and incubators, where small teams will work on specific challenges for three- to six-month periods, after which time they would present or publish their learnings.
The focus on experiential learning engages students and pushes them to apply theory to practice, imparting a hands-on experience that will make them competitive in the job market and capable of understanding how to tackle complex challenges in the world of health.
Lehigh's population health alumni will be highly qualified to pursue careers in the private sector, nonprofit organizations, or local, state, federal, and international governmental institutions, or go on to obtain graduate-level research or clinical training. They may work in fields including epidemiology, medicine, data science, biostatistics, global health, health economics, health policy, community health, health promotion, and health innovation and technology. Graduates can work in many different industries in a variety of roles and will have the flexibility to move across sectors and disciplines given their in-demand education, skills and experiences.
Lehigh will seize this opportunity to infuse innovation and technology in teaching, research and practice. Through partnerships and associated funding, the College will build sustainability and influence the health and well-being of local, national and global communities. Most importantly, these partnerships create opportunities for education, student participation and research.
In support of this goal, the College is considering efforts that include:
Partnerships across all Lehigh colleges as well as local and regional health networks and organizations in order to create opportunities for our students and to positively impact decision-making to improve the health of our community.
Nontraditional partnerships. Tech companies, venture capitalists and established health care organizations are actively seeking partners to pursue innovative projects that will change the face of health care. While some in higher education eschew these connections, Lehigh will embrace partnerships that afford scholarly rigor and research integrity.
To track epidemics, make effective policy decisions, evaluate community health, or determine the economics of health care practice, one needs to understand data and trends across populations. The College of Health brings Lehigh's research strengths and interdisciplinary approach to bear on the big challenges and opportunities in health and health care here in the U.S. and around the world. As a result, Lehigh is poised to compete for extramural funding and produce novel research.
In support of this goal, the college is considering efforts that include:
A data warehouse, offering a locked-down environment in which faculty and students can house sensitive, often not-publicly-available data sets provided by government and other agencies. This secure environment is key to accessing and manipulating the large amounts of sensitive data needed to fuel meaningful research and change.
Advanced analytics and data visualization labs, allowing students from a variety of disciplines to learn how to understand and visually display data in a consumable format.
Artificial intelligence and virtual reality labs, in partnership with other colleges and units across campus, to develop the innovations and technology to drive health forward.
Lehigh University is committed to improving the health and well-being of the people who live in and around Bethlehem, PA. This commitment allows students and faculty to actively engage with community partners and residents to better understand the factors impacting their health and ways we can support the work already underway to address health disparities and improve health equity. We are cultivating partnerships with communities, health systems, governments and private sector organizations to promote the health and well-being of communities locally, nationally and globally.
The Health, Science and Technology (HST) building, slated for completion in 2021, will be located on the main campus of Lehigh in southern Bethlehem. The HST building will serve as the home for the College of Health. This expansive new facility—the largest academic facility built at Lehigh in more than a decade—will be the nexus for innovation in population health education, research and partnerships. In this "living laboratory," the College will support incubators so that students, faculty and partners can come together to work on critical health research and evaluation.
This sustainably designed building, which will anchor the northeast corner of campus, will encourage an interdisciplinary culture via maximized transparency and accountability; develop functional neighborhoods that promote collaboration, communication and flexibility; and serve as an important new crossroad for Lehigh students, external partners and the public.
Key Dates
2019

Founding Dean's Appointment

2019-2020

Inaugural Faculty Hires/Initiate Partnership Explorations

2020-2021

Inaugural Student Enrollment

2021

Health | Science | Technology Building Opening

2024

60+ faculty and 750 students by 2024