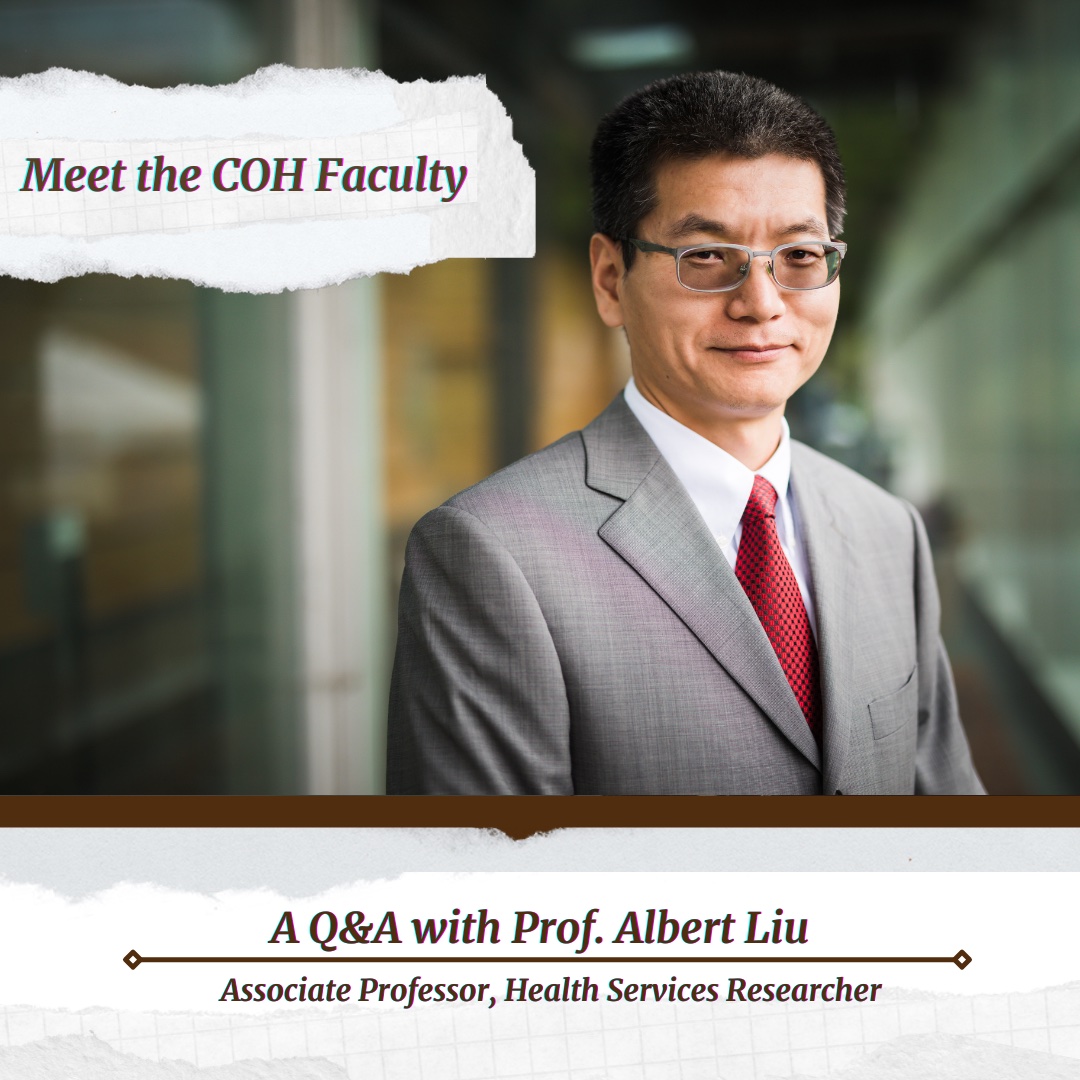 Faculty profile: Meet Albert Liu
Rather than become a medical doctor, Albert Liu's passion for research, education and teaching led him to join the College of Health faculty at Lehigh University.
Liu grew up in Hebei Province in the People's Republic of China, a culturally significant area boasting three World Cultural Heritage Sites – the Great Wall, Chengde Mountain Resort and the Qing Tombs, the final resting place of Qing Dynasty emperors.
After receiving his Bachelor of Medicine from Sichuan University, Liu opted to pursue improving the healthcare system rather than treating individual patients.
In his work, Liu strives to use empirical evidence to establish the value of services from the population health perspective, and his research focuses on healthcare utilization, costs and quality of care.
We asked Liu to tell us a bit about himself, his research and interests along with what he's discovered – and has pleasantly surprised him – about living in the Lehigh Valley.
Q: What was your last teaching position before Lehigh University?
Liu: I taught at the University of Central Florida for nine years before moving to the Lehigh Valley and teaching at Lehigh. 
Q: Where did you study and earn your degrees?
Liu: I received a Bachelor of Medicine in Medicine degree from Sichuan University. I was convinced that I could generate a greater impact by improving the healthcare system as a researcher rather than practicing medicine. Consequently, I pursued a master's in health economics and policy research from Capital Medical University and a Ph.D. in health services organization and research from Virginia Commonwealth University.
Q: What is your specific area of interest? 
Liu: The overarching theme of my research, teaching and service activities is examining healthcare policies, organizational structures and clinical practices to improve healthcare. My deep appreciation for the complexity of the healthcare delivery system – and my belief in process improvement – is my primary professional driver. A fundamental objective of my research is generating empirical evidence regarding the value of health services from the population health perspective. My research focuses on health services utilization, costs and quality of care through the lens of medicine, economics and health services research. Two additional areas of research are healthcare organizations' performance evaluations (e.g. organizational efficiency and financial performance) and research methods, including systematic review and meta-analysis. My research uses population-based data to craft novel methodological approaches for clinical and policy issues. 
Q: Are there any new research topics or areas you'd like to explore?
Liu: I am interested in how to improve the outcomes of patients living with multiple chronic conditions (MCC). The U.S. population is aging, and we will see a growing number of patients living with MCCs. While more than one in four adults has two or more chronic medical conditions, the proportion increases to two in three among elderly Americans. Management of MCC is challenging because these patients are struggling with multiple needs, which may include unmet social needs. We are working with Bayada Home Health Care, a nonprofit home health company, to examine what impact community-based personalized care can have on patients with MCC. We believe home health aides and nurses who have regular contact with patients are in a unique position to deliver personalized care to address the complex needs of patients with MCC. 
Q: What brought you to Lehigh?
Liu: I should make it clear that I was very happy with my previous institution. Actually, it was a wonderful place to be: I had great colleagues, motivated students and Florida weather. The opening at Lehigh's new College of Health piqued my interest because population health represents a paradigm shift in healthcare. Existing healthcare delivery systems need to go through a fundamental transformation to deliver evidence-based care at the lowest cost to the target populations they serve. I feel fortunate to be able to join the College of Health and further its vision to be a global leader in population health education and research. 
Q: What's your personal vision and approach to your research and methods – how has this served you or is it a result of changing and adapting along the way? 
Liu: The healthcare industry collects an exponential amount of data every day.  But big data is a lazy asset. Big data doesn't speak for itself. To unleash the potential of big data, we need to create opportunities for subject matter experts such as clinicians and data scientists to work together. When we have all three elements – big data, clinicians and data scientists – we can generate a lot of exciting and actionable insights. This is what I've been trying to do in my research. 
Q: What classes did you teach in the spring? What is on your fall roster?
Liu: I taught Healthcare Finance in the spring, and I'll offer it again in the fall. It introduces students to key financial management principles, concepts and techniques as applied to health services organizations. We learned about different financial reports, revenue cycles, working capital, budgeting and so on. We also got to work on several cases based on the financial practices of healthcare organizations. In the fall, I will offer a course called the U.S. Healthcare Ecosystem. In this course, covering all health system participants, from consumers to providers, organizations, payers and regulators, students will gain a basic understanding of the U.S. healthcare ecosystem. Not only will this course help students professionally – regardless of their aspirations to become clinicians, healthcare administrators or medical scientists – it will benefit them personally as they navigate the healthcare system as patients, health plan enrollees or as tax payers. 
Q: How has the Greater Lehigh Valley surprised you?
Liu: I moved from Orlando, the largest tourist destination in the world. But I have been surprised by all the places of interest and festivals that are offered throughout Philly and the Lehigh Valley. 
Q: Any hobbies
Liu: I like swimming, which works your entire body while protecting your neck, back and knees. I thought I would need to give up swimming after moving to Pennsylvania, and I was glad to discover the many great indoor and outdoor swimming pools available in the region. 
Q: Cats or dogs?
Liu: I like both and had both cats and dogs growing up. Because my wife does not like any furry animals – except Koala bears – we haven't adopted any yet.