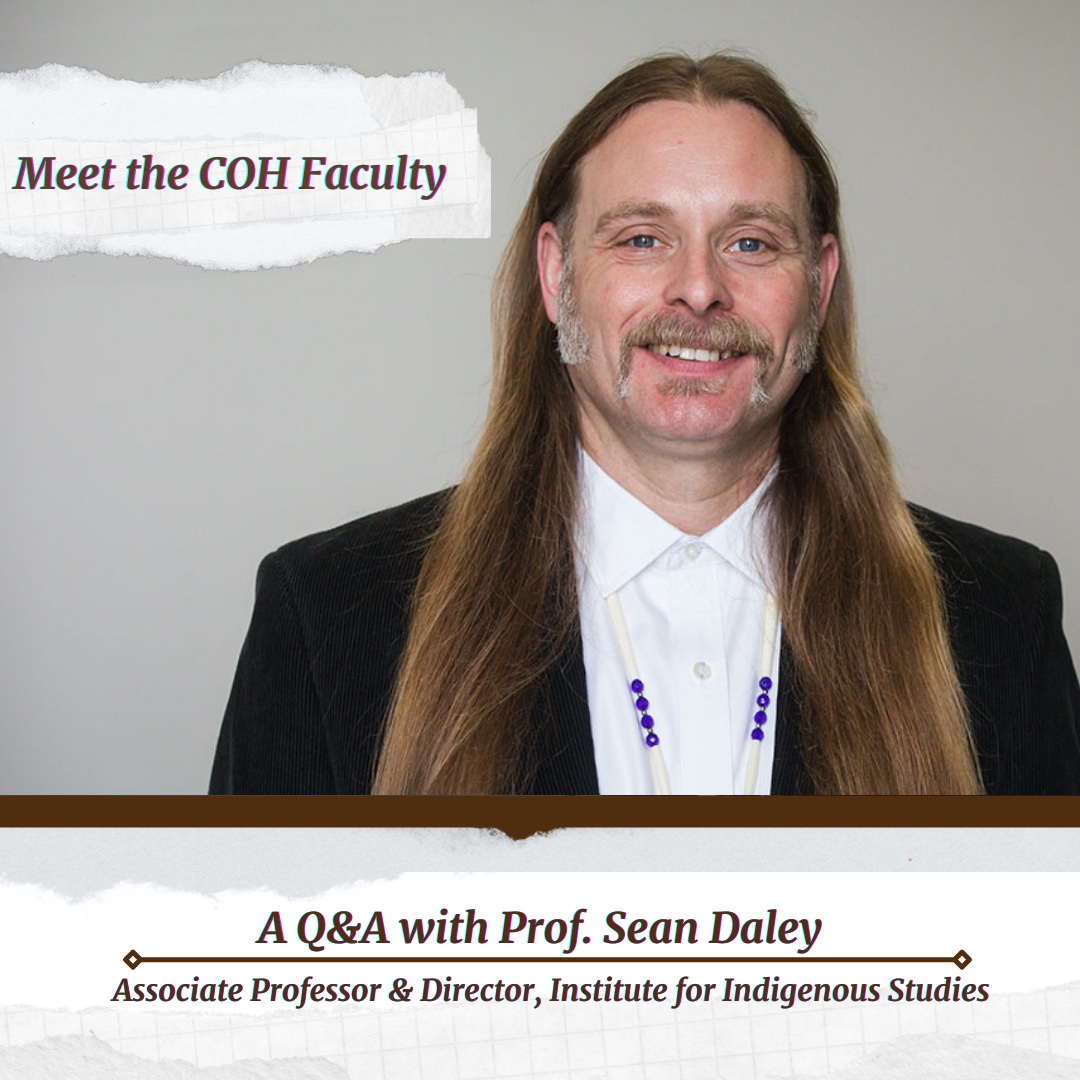 Faculty profile: Meet Sean Daley
Sean Daley grew up in New Jersey then studied, taught and lived in Kansas, Arizona, Connecticut and, since coming to Lehigh University in 2020, now Pennsylvania.
He's fascinated by the interrelationship and dynamic influences of Native peoples and their traditions, religious practices, spirituality and health decisions – particularly their tobacco use. Tobacco and other plants have a long history of medicinal and religious uses among Native tribes in the Americas – by some estimates dating back to 6,000 BCE.
With a Ph.D. in sociocultural anthropology from the University of Connecticut, Daley has worked with Indigenous peoples across the country and, for the past 15 years, has been part of All Nations Breath of Life (ANBL), a culturally-tailored smoking cessation program designed specifically for Native peoples. The program takes into account Native traditions and offers Daley a unique lens into how and why smoking tobacco is important to this culture.
We asked Daley to tell us a bit about himself, his research and his interests, along with what he's discovered so far about living in the Lehigh Valley.
Q: Where did you grow up??
Daley: New Brunswick, New Jersey, but I wouldn't recommend it. The old, original Brunswick was okay, but the new one…not so much. It's kind of like new Coke (Coca-Cola) in the 1980s. The new one wasn't that good – but the original Coke is.  
Q: What was your last teaching position before Lehigh University?
Daley: I was a professor of anthropology and the director of the Center for American Indian Studies at Johnson County Community College in Overland Park, Kansas. I started there in January 2006, one month after I received my doctorate, then left in July 2020 to begin my time at Lehigh in August 2020.  
Q: Where did you study and earn your degrees?
Daley: I received a BA from the Livingston College at Rutgers University, an MA from the University of Arizona and a Ph.D. from the University of Connecticut.
Q: What is your specific area of interest? 
Daley: For the past 25 years, I've worked primarily with American Indian peoples and Native communities on health and education programs, mostly in the central and northern Plains and the Southwestern U.S. I have a particular interest in how religion, spirituality and health all work together and through the ANBL program, I've been able to pursue that interest. ANBL was implemented in tribal communities across the U.S. – on reservations and in rural and urban areas. Tobacco is a sacred plant to many Indian nations, used to send prayers to the Creator and to ward off malevolent spirits. It wasn't commonly used for recreational purposes.
Q: Are there any new research topics or areas you'd like to explore?
Daley: Yes. I've been exploring a few new areas of research since arriving at Lehigh. I'm currently working with a few organizations in eastern Pennsylvania looking at services and programs for children with (dis)abilities, children with complex medical conditions and children with terminal diseases – specifically pediatric palliative care and hospice care. I'm also starting to work with traditional healers from several different cultural and spiritual traditions from the Caribbean.  There is quite a bit of this occurring in the Lehigh Valley as well as in Philadelphia and Reading.  It is more common here than people realize.    
Q: What brought you to Lehigh?
Daley: A 2014 Jeep Wrangler Rubicon. It's a black, four-door with 33-inch wheels. In a larger sense, there were several factors. First is the opportunity to help build a new college. You don't always get a chance to be a part of something like that, especially at a university with the reputation and standing of Lehigh – to me, it was a huge opportunity. Second, I've wanted to pursue some new areas of research and coming to Lehigh gave me the chance to do so – I have been very fortunate, and it's been going exceptionally well. Third, I've wanted to teach upper-level undergraduate and graduate courses and work with graduate students. The COH gave me that opportunity. And lastly my wife, Chris, is also a professor in the COH. She and I have been working together on many of the same research projects since we were undergraduates.  We've never been faculty at the same college or university, and we're able to do that here. Married couples in academia don't always get that opportunity.  
Q: What's your personal vision and approach to your research and methods? How has this served you or is it a result of changing and adapting along the way? 
Daley: Because I am a sociocultural anthropologist by training, culture and cultural traditions are integral to all of my work. I am trained in ethnography and community-based research, more properly community-based participatory research. The people and communities with whom I work are at the center of everything I do. They need to be involved in the research at all times. A collaborative and reciprocal relationship is essential. While academic and scholarly knowledge is important, so is cultural, social and community knowledge. The real-world knowledge community partners bring to the table needs to be valued as much as academic and scholarly knowledge. The knowledge and wisdom a community leader or elder has can be invaluable.  
Q: What classes did you teach in the spring? What is on your fall roster?
Daley: Last spring I taught Indigenous Healing Traditions, an introductory course on Native healing traditions of the Americas. This fall I'll be teaching Sociocultural and Political Determinants of Health and Contemporary Indigenous Health. I know about half the students in each class already since I've had those students in previous classes. Having that previous relationship always helps the class dynamic.  
Q: How has the Greater Lehigh Valley surprised you?
Daley: The Lehigh Valley is way more interesting and diverse than I expected. There's a ton to do  - from the local mom-and-pop and family-run restaurants alone, we never get bored. There also seems to be a festival of some kind every weekend. As a cultural anthropologist, having numerous ethnic and cultural groups in Lehigh Valley is a good thing. You can go from being in an urban area to a rural area in just a few miles – which is very cool.  
Q: Any hobbies
Daley: No, not really. I have two teenage daughters, so I don't really have time.  On the rare off chance I do have a few minutes I am into skateboarding, BMX and I play the drums – things I've done for most of my life. Since I don't have the time to invest like I did 20 or 30 years ago, I'm not nearly as good or proficient as I used to be. No, not even close.  
Q: Cats or dogs?
Daley: Cats, I have four – Katie, Lakota, Vinnie and Seamus. But don't read into the order I listed them; it's simply their ages – oldest to youngest – not how much I like them.