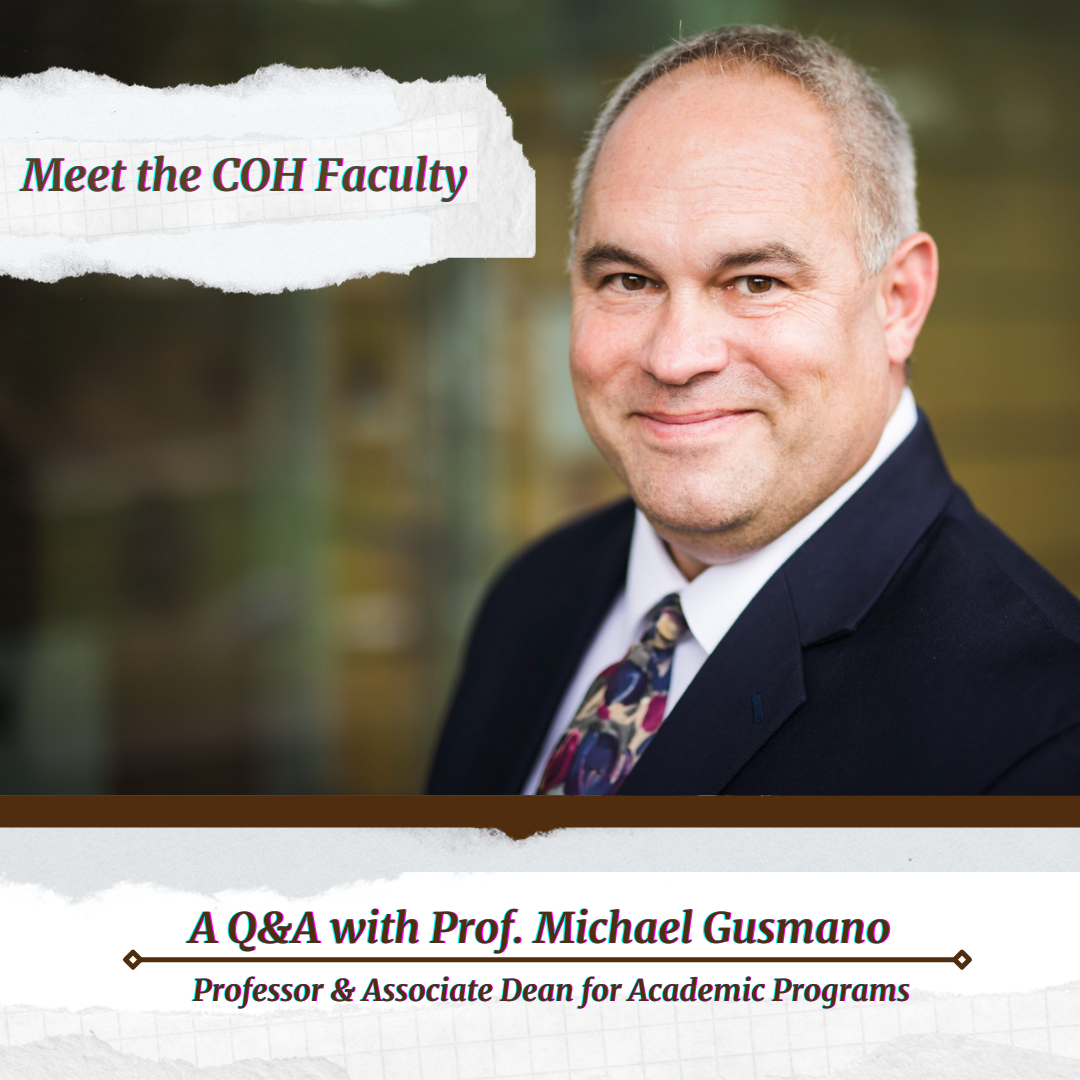 Faculty profile: Meet Michael Gusmano
Family, place and roots are important to Michael Gusmano.
Gusmano, COH's professor of health policy, doesn't live far from where he grew up in Poughkeepsie, New York. He's so close to the family homestead in fact that he can – and does – occasionally drive by to check on a tree planted there when he was 10 years old.
As a public health professional, much of Gusmano's work targets how the consequences of public policies directly impact the health of various populations. We asked Gusmano to tell us a bit about himself, his research and interests, along with what he's discovered – and what has pleasantly surprised him – about living in the Lehigh Valley.
Q: Where did you grow up?
Gusmano: I grew up in Poughkeepsie, New York, in Duchess County midway between New York City and Albany. My parents moved into the house where I spent most of my childhood when I was three and sold it in 1990 when I moved to Maryland to attend my doctoral program. And that tree we planted when I was 10 – so far, so good.
Q: What was your last teaching/position before Lehigh?
Gusmano: I was a professor in the School of Public Health at Rutgers University from January 2016 until August 2021. Before that I was a full-time research scholar at The Hastings Center in Garrison, New York - a think tank focused on bioethics. I have maintained my appointment at The Hastings Center and continue to collaborate with scholars there including my recent National Institutes of Health (NIH)-funded project focusing on the ethics of xenotransplantation.
Q: Tell us more about xenotransplantation.
Gusmano: Xenotransplantation involves using organs (or tissue) from non-human animals in human beings. Our project is focused on efforts to use genetically modified kidneys from pigs in human beings that need a kidney transplant. There are a host of ethical issues involved – like the timing of first-in-human clinical trials and how to balance the benefits and harms associated with them. Some people oppose this because they believe it violates animal rights and provides an additional reason to raise pigs for slaughter. Others argue that we already slaughter pigs for food consumption, and this has the potential to save human lives. There are concerns about the potential for zoonotic disease transmission. Some argue that we have the capacity – by using genetic modifications – to minimize, if not eliminate, the risk of such transmission. Others believe that the risk may still be too great. As with the other ethical questions, this depends on scientific evidence, but also on our attitudes about risk and benefit. There are potential issues about equity. We know that minority groups are under-represented in clinical trials. This is a potential problem because we are approving treatments based on evidence from patients who may be clinically different than some of those who receive the treatment. Given the understandable lack of trust among minority patients in a health system and among academic researchers – with respect to accessible, equitable care – this is a particularly difficult issue. We hope to expand opportunities to participate in clinical trials without making anyone feel as if they are obligated to participate in this research.
Q: Where did you study and earn your degrees?
Gusmano: I received my BA in political science and an MPP from the State University of New York at Albany. I received my second master's and Ph.D. in political science from the University of Maryland at College Park. I was a Robert Wood Johnson Foundation Health Policy Scholar at Yale University, and I completed a second post-doctoral position at Yale in the School of Public Health between 1997 - 1999.
Q: What is your specific area of interest?
Gusmano: I work in health policy and health services research. About half of my work focuses on the consequences of health policies, particularly for poor and vulnerable populations including migrants, older people and minority populations. The other half focuses on the extent to which marginalized populations have a voice in the policies that influence their lives. A lot of my work is focused on health reform in the U.S. During the past two decades, I have also done a fair amount of cross-national comparative analysis, looking at health policies in several countries and cities around the world. This includes some work on the health of migrants and undocumented residents. My work relates to the mission of COH because it helps us to better understand how policy interventions can promote equity in health and health care.
Q: Are there any new research topics or areas you'd like to explore?
Gusmano: I've done a lot of work looking at the possibility of using different forms of public deliberation to inform health policy, including policies focused on the development, regulation and use of emerging technologies. I'd like to build on this by working with marginalized communities to develop public deliberations that would allow them to have a greater voice in shaping policy. I would also like to expand my work on access to health care in high- and middle-income countries to lower-income countries and cities. I've had some opportunities to do projects in sub-Saharan Africa, but I would really like to do more.
Q: What brought you to Lehigh?
Gusmano: I wanted to contribute to the creation of a new College of Health and shape its direction at a critical moment in its history. I am enthusiastic about the COH commitment to applying social science methods for the purpose of improving population health and reducing health and health care inequalities. I was also attracted to the university's commitment to providing high-quality, undergraduate- and graduate-level education while conducting serious, applied research. In my view the College of Health and Lehigh as a whole combines the best aspects of a mid-size liberal arts college with the best of a research university. Beyond that, our commitment to working with community partners and addressing real-world problems is important to me.
Q: What's your personal vision and approach to your research and methods – how has this served you or is it a result of changing and adapting along the way?
Gusmano: My approach has encouraged me to engage in what many refer to as "team science" because it is often necessary to work with an interdisciplinary team of professionals to make sure we have the theoretical, substantive and methodological expertise needed for a particular project. Some people develop expertise in a particular methodology and look for research questions that can be addressed using those methods – and there is nothing wrong with that approach. While I have developed expertise in elite- and patient-level interviewing, content analysis of documents and statistical analysis of large datasets, I tend to focus on interesting questions and then look for methods that are most appropriate for a given study.
For example, my book on Medicaid reform in Connecticut with Dr. Colleen Grogan was based, primarily, on in-depth interviews with people in the state's policy network. Most recently, I completed a paper with Dr. Alice Sardell in which we used a similar approach to investigate health and education policy reforms in New York City. For my World Cities Project, we tend to rely on mixed methods, but a lot of our work includes conducting statistical analysis of large hospital administrative datasets, involving millions of records. In each case, I allowed the question I was interested in answering to drive the selection of methods.
Q: What classes did you teach in the spring? What is on your fall roster?
Gusmano: In the spring I taught a Cross-National Comparative Health Policy course. In the fall I will teach a new course on Aging, Health and Social Policy. It will explore the policy implications of population aging. I will also run a non-credit seminar for our new graduate students.
Q: How has the Greater Lehigh Valley surprised you?
Gusmano: It is a remarkably diverse and vibrant place. I knew that the towns in the Lehigh Valley had reinvented themselves – and I love the way they have repurposed some of the older buildings – but I did not fully appreciate the diversity and energy of the community. It is really a wonderful place to be.
Q: Any hobbies?
Gusmano: My wife and I love to kayak. We get in the water as soon as the ice melts (and sometimes before it does) and we keep going until nature (and common sense) stops us. I also enjoy tent camping, hiking and swimming. During our annual trip to Maine, my family has a difficult time getting me out of the water.
Q: Cats or dogs?
Gusmano: During the height of the pandemic lockdown my daughter, who had moved back home and was completing her graduate program online, brought home a dog from a shelter named Luna. She looks like a small black Lab, but she is a combination of Lab, beagle and a couple different breeds of cattle dog. She isn't really cuddly – she prefers to herd people – but she likes to play and is incredibly smart, friendly and well behaved. She lived with us for two years, but now she lives with my daughter in New Jersey.