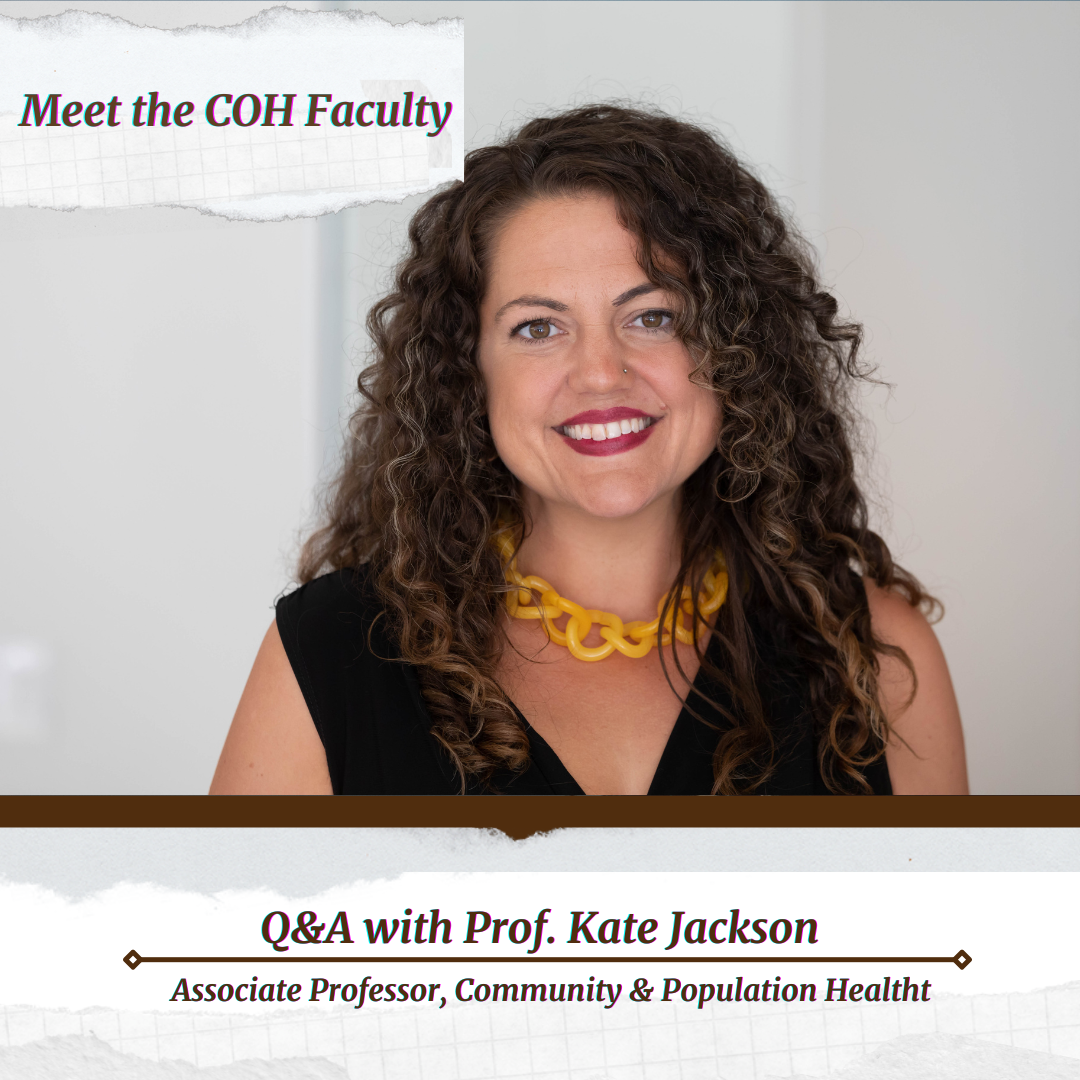 Faculty profile: Meet Kate Jackson
By Esha Soni '24
Kate Jackson is a new assistant professor in Community and Population Health in COH. Kate earned her Ph.D. in Public Affairs and Community Development from Rutgers University-Camden. Kate's research and teaching focus on the intersection of environment, race, and health. Her research on urban agriculture and environmental justice investigates trending responses to pollution, food inaccessibility and disinvestment. This work was most recently published in a special edition of Environmental Justice. In addition, Kate served for the last several years as the Environmental Justice Coordinator for the Center for Environmental Transformation in Camden, NJ. In this position, she used her knowledge and passion for organizing and justice to work for environmental equity alongside residents in an overburdened community. Prior to this, Kathryn was the Public Policy Director for Volunteers of America, Delaware Valley, where she was responsible for tracking legislative and regulatory priorities while monitoring important issues and political trends related to community health to organize and empower the diverse communities served by the agency. Kathryn has a M.S.S. and a M.L.S.P. from Bryn Mawr College, School of Social Work and Social Research and a B.A. in Sociology from Eastern University.
Q: Where did you grow up?
Jackson: I grew up in New Jersey, in a small town called Bordentown. And I spent most of my time in New Jersey until college when I went to Pennsylvania. 
Q: Where did you earn your degrees? How was that journey? How was the path?
Jackson: I started off with a degree in sociology. And I had originally started there for elementary education. I always wanted to be a teacher. And once I took my first sociology class, I was hooked on understanding society from a systemic level and was fascinated by the way in which people interact with each other and the environment. Out of undergrad, I worked for an organization for youth in the juvenile justice system. I became really familiar with their lives and the types of situations that led them to being in a juvenile detention facility and started to notice the patterns of kids who were really disadvantaged from the start in terms of access to education, parents having to work multiple jobs, barriers to nutrition and food and adequate housing and safety, mental health, physical health, and just really wanted to stop putting a band-aid on these big structural issues and so decided to go back to school again, this time for social work because I love working with people in communities. I also earned a degree in Law and Social Policy from Bryn Mawr. So from there, I did community organizing around homelessness and affordable housing. I was working almost as a lobbyist and organizing communities of people around the types of housing they needed for themselves, for them and for their communities. While I was a policy director, again, I just felt like I needed more knowledge, I needed more skills, and really wanted to find my own space. I had been working in all of these spaces, and wanted to find my thing and so I pursued my Ph.D. in Community Development and Public Affairs, which was broad enough for me to make it what I wanted it to be.
Q: What were you doing before Lehigh?
Jackson: I  was working as an environmental justice coordinator for the Center for Environmental transformation, which is in Camden, New Jersey, while completing my Ph.D  journey. As I focused my research on grassroots organizing land, race and environment,Ireally found my home there. That's how I ended up doing the environmental justice workin the local community, which again, was lobbying, policy, advocacy, community organizing. It helped me realizehow much our health is impacted by our environment, and the environment is everything.
Q: How was the transition into becoming a professor?
Jackson: I consider myself a scholar activist, which means that my research is also my daily practice and my work in the community. I'm really driven by critical theories which require action and equity. The classroom is one part. The community is also one part of that. The institution is a part of that. It all connects, there's no disconnect for me. I'm starting fresh with a new space, which is really an honor to be able to do that. So essentially, I'm doing the same types of things I was doing as a community organizer, listening, observing, learning who the people are in this community, particularly on the South Side, and Bethlehem in particular, and learning about the environment, physical and natural and built. So it really feels like the same, almost just a new, beautiful place, with new beautiful people. and the same kind of principles of this grassroots environmental justice organizing is what's happening in the community who's involved. What's the power dynamic? How do I plug in to help work for equity? I'm already you know, getting a feel for the different policies that exist. I've been talking to the mayor's office about their climate Task Force, they're forming an Environmental Justice Council. There's policies around housing that I'm having conversations about green space and access. It's really fun to be able to plug in here.
Q: What are your current research projects/any you have done?
Jackson: The tricky and beautiful part as a community based participatory research is that my research comes from community and with community, so I didn't come here with an agenda except for broadly environmental health, which is everything. My dissertation is on urban agriculture and food justice. I'm dabbling a little bit in figuring out what's going on here. In the Lehigh Valley around food and access and land, but I don't have a research agenda per se. What I've been doing is getting to know people and going to as many meetings as I can. I moved here to the South Side deliberately to really know what it's like and to build relationships and partnerships. Right now, I am in a listening and collaborating phase. And from that, what I hope to build is a really resident community driven assessment or story of environmental health here. And so that could look like I've been talking to folks in Touchstone theater, in our own art gallery, about how we incorporate art and storytelling to gather the story of what the environment is here and how that might translate into changes to improve the health of the community. 
Q: Are there any new research topics or areas you'd like to explore at Lehigh? 
Jackson: I recently plugged into the South Side initiative and there are just an incredible amount of folks that are doing community based work here in this neighborhood. I've also been in conversations with folks who are doing a research project on COVID and racial disparities and with climate thrown in there a little bit. That's a really collaborative group from across the university. There's folks from political science, engineering, and from the business college. We're trying to work together in order to gauge the impact of COVID on folks in the Lehigh Valley. I'm interested in continuing that. I've been in discussions about creating an environmental health assessment so that hospitals and cities can broadly measure the impact of the environment on residents. A big area of my focus is race and land and so I would love to explore relationships with people and land particularly around the different ethnicities and people groups that have lived here and currently live here are affected by displacement, gentrification, things of that nature. 
Q: What challenges do you face when collaborating with different initiatives or communities?
Jackson: Time. Finding time to do all of the things that we want to do is really hard. Building trust takes time. I wouldn't say it's hard but it takes time and it takes commitment and consistency. So showing up to things regularly is important. I embed that in my kind of research methodology. I would say that the challenge is just that the nature of this type of work is that it's relational and that means you need to spend time with people intentionally building relationships doing things for one another. So it's reciprocal and not exploitative of the community in particular.
Q: What brought you to Lehigh?
Jackson: I saw the job description for environmental health, justice and policy and they specifically were looking for someone to work in environmental justice and policy, and I had not seen a job description like that anywhere. The fact that the College of Health is new, and growing and building was extremely exciting to me, because the field of environmental justice is so up and coming. There aren't many programs that make that connection between environment and health and justice and policy. And so thinking about how to design that with a local impact, while also bringing students into that experience is a huge draw for me. There's excellent scholars here, many of whom I used in my dissertation. Lehigh has such a wonderful reputation. It's the perfect size for me. Teaching and community work are my absolute favorite things. So to be in a space where I can have class sizes where I can really engage.  
Q: How has the Greater Lehigh Valley surprised you?
Jackson: One thing that surprised me coming from the areas where I've studied, there tends to be, like, an over-studying of people. So I'm coming from, you know, Philly and Camden where folks are like, "Oh, researchers just take from us and you know, we're tired of it. We don't really need any more researchers." I was worried about that here and coming in and asking people for their time and energy and feeling like I didn't want to burden people, right. I want to come here and support folks and use the privilege and resources that I have to really just be a support. And I'm finding that that's really easy to do here. I can't even tell you every person I've met in the community has been honest, warm, excited, and engaged in doing some really incredible innovative things. The conversations that are happening here locally about environmental justice and land and race are vibrant, they're growing, they're expanding. People are willing to talk and they want to talk and they want to partner, which is just such an honor.
Q: What classes are you currently teaching?
Jackson: I am currently teaching community health.
Q: What classes are you teaching next semester?
Jackson: I'm planning for a community based participatory research methods class. And my goal for that class is to be out in the field, connecting with community members to design an impactful research study that students can do collaboratively with the local community can do that because of our class sizes and because of the goals of the college, and that is so important to me that the things we're studying can be applied and applied really well.
Q: What have you learned from the students in the COH so far?
Jackson: The students in the College of Health are brilliant. It's amazing how much folks want to do and are already doing. The excitement and engagement is unreal. I can't tell you how many students have asked me for an internship or even just a volunteer opportunity. There's a willingness and an openness and a spirit of humility and learning, but also brilliance and excellence. I'm finding just incredible energy, excitement, and really innovative thinking, which is so fun. The beginning of the semester, we did a community build activity where it was the first class and I gave everyone and put them into groups and people were given detailed instructions about building a healthy city and then I gave each group money to do it, but they didn't know they all had different amounts of money and they all had different situations. To see each group we have to work through. I told them nothing about developing a city right, seeing the innovation was incredible. The questions were so advanced right on day one, that it was a really exciting place to start. And I have learned just how fun it is to be in community with the students here. Because we can really do things together.
Q: Tell us more about the garden project you are working on with other COH faculty?
Jackson: We really lucked out with this round of hires, because so many of us are involved in green space and environment in some way. And so this really was Russ and Jong's idea to form a group where we can talk as faculty and students and community members about our shared interests, because we don't want to duplicate what's already happening. We have several gardens right here on the South Side. There's community groups like Afros In Nature and we really want to figure out a way to harness our research and our time to support those efforts and to collaborate. It's really just organic space to chat right now, and figure out what's going on and how we can research together, how we can grow together, how we can be mindful of the local community and think really creatively about space. We have folks who study mental health and green space access. I study race and equity and green space. So who knows where it'll go, but it's open to everyone. We want it to be that way. We want it to be a space that really grows collaboration and something really cool.
Q: Any hobbies?
Jackson: I love to ride my bike. I have an eight year old son, so he's like my whole world. I do a lot of Minecraft and we have our own cooking channel on Youtube called "Veg Kid Kitchen". And I love to go thrifting so usually all of my clothing and things are thrifted. This is just a fun hobby of mine.
Q: Cats or dogs?
Jackson: Dogs!