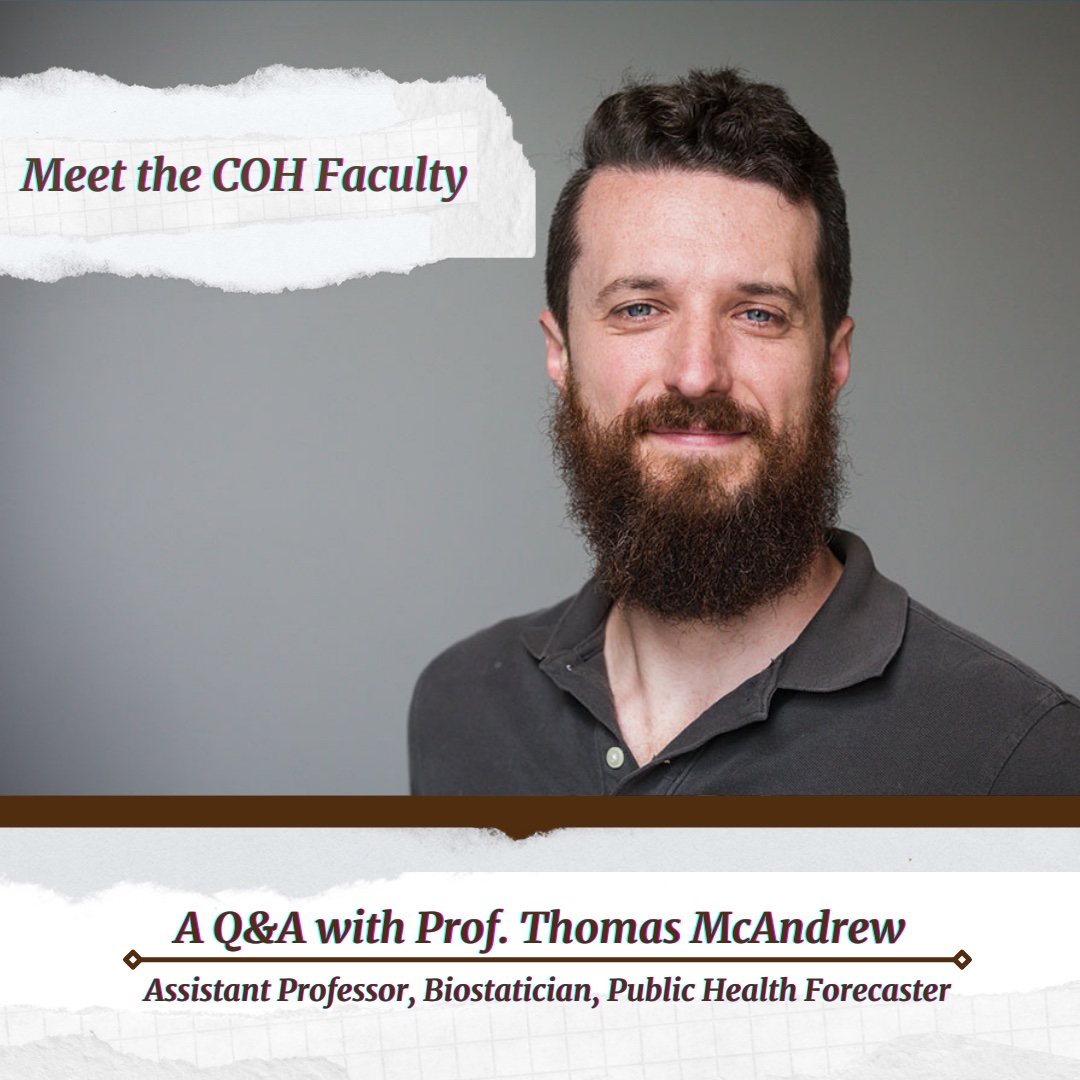 Faculty profile: Meet Thomas McAndrew
Thomas McAndrew has worked in private industry – where he designed and analyzed regulated cardiovascular clinical trials – and now works in higher education where he collaborates with a team of undergraduate and graduate students in his lab – the computational uncertainty lab.
Born in Scranton, McAndrew now lives closer to his parents and his younger sister who live only an hour away. One of his fondest childhood memories was when he could spend time with them at a local diner.
Joining Lehigh's College of Health faculty ties together his interests. From designing research, crafting and teaching curriculum and being closer to family, McAndrew has a unique chance to make a difference in the lives of others.
Q: What was your last teaching position before Lehigh?
McAndrew: In the fall 2019 semester, I took a visiting professor position in the department of mathematics and statistics at Mount Holyoke College in South Hadley, western Massachusetts. I taught a course titled "Applied Regression." I was drawn to Mount Holyoke because of its strong reputation in statistics education. Because it's a women's college, I was given the opportunity to support women in mathematics and statistics. It's a small school and you get to know everyone. Western Massachusetts has a wonderful atmosphere. There are great hiking trails where I would take my three dogs: Banjo, Fiddle and Kazoo.
Q: Where did you study and earn your degrees?
McAndrew: I earned a Bachelor of Science in biomathematics at the University of Scranton, a Master of Science in Biostatistics at Georgetown University and a Ph.D. in Mathematical Sciences at the University of Vermont.
Q: What is your specific area of interest?
McAndrew: My research aims to build more accurate, informative probabilistic predictions of the trajectory of infectious agents by combining computational models and models of human judgment. We have evidence supporting how human perceptions and predictions can lead to more accurate forecasts of quantities of interest to public health officials such as the number of reported cases, deaths and hospitalizations due to disease. The lab is in real-time generating forecasts of (i) incident cases, deaths and hospitalizations due to Covid-19 and (ii) hospitalizations due to confirmed influenza.
Q: Tell us why you enjoy forecasting. 
McAndrew: I feel like I am able to create and build in forecasting, and the modeling of infectious diseases community is close-knit. I started forecasting during my post-doctoral fellowship at the University of Massachusetts Amherst, working with Prof. Nicholas Reich. While there, I worked on building algorithms to combine forecasts of influenza-like illness – a marker of influenza activity – and studied how to aggregate human judgment to forecast epidemiological quantities associated with Covid-19.
Q: What brought you to Lehigh?
McAndrew: I moved to the Lehigh Valley for the opportunity to contribute to a new College of Health (COH). I picked the COH at Lehigh because I was given the opportunity to design my own curriculum in biostatistics and public health forecasting, collaborate on research projects with many faculty that share similar interests in infectious disease work, and engage with dedicated, hardworking students.
Q: What's your personal vision and approach to your research and methods - how has this served you or is it a result of changing and adapting along the way? 
McAndrew: I believe in collaborative, team-driven research. I enjoy mentoring undergraduate and graduate students, and I also enjoy learning from them. My research is driven by a need to support public health decision making.
Q: How has the Greater Lehigh Valley surprised you?
McAndrew: The Lehigh Valley has a great variety of breweries and beer makers. I like the microbrewery atmosphere. They create a community and the people at the breweries are community-driven and inclusive. I also like that Bethlehem is a diverse area. I worked in New York City and I love bagels. People are telling me about Johnny's, so I have to try them.
Q: Any hobbies?
McAndrew: I enjoy woodworking and tuning up my pickup truck, a 1982 Dodge D150 (first Generation Ram). It's blue with a Chrysler Slant-6 engine. My daughter named it "Big Moe" after a blue tractor in the children's storybook "Duck Duck Moose," which was authored by Mary Sullivan.
Q: Cats or dogs?
McAndrew: Both. I love all non-human animals.