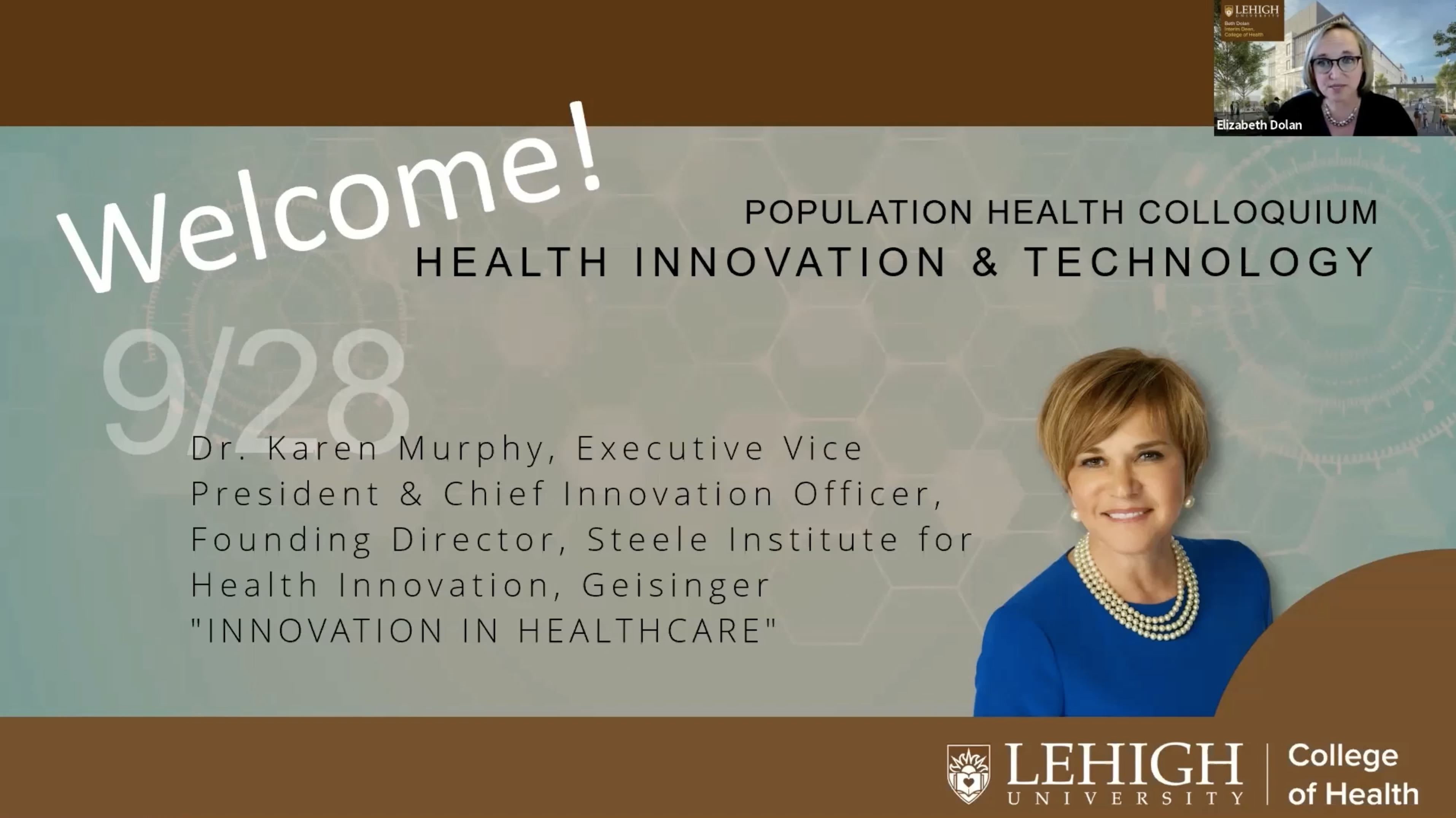 Using Technology to Improve and Transform Healthcare Delivery
The Lehigh University College of Health (COH) is excited to be part of the growing innovation and technology revolution that is helping to improve health outcomes for communities across the globe.
 
That was apparent on Tuesday, Sept. 28, when the College kicked off its Fall 2021 Population Health Colloquium Series, focused this semester on health innovation and technology in order to celebrate and prepare for the COH's faculty search for the Ellen and Vincent Forlenza '75 Endowed Chair in Health Innovation and Technology.
 
Dr. Elizabeth A. Dolan, interim dean of the COH, welcomed Dr. Karen Murphy as the first of three distinguished speakers. Executive vice president, chief innovation officer, and founding director of the Steele Institute for Health Innovation at Geisinger, Murphy detailed her work to improve and transform healthcare delivery. She also discussed her passion for health policy, including her tenure as Pennsylvania's secretary of health.
 
Lisa Getzler, executive director of Lehigh's Baker Institute for Entrepreneurship, Creativity & Innovation, facilitated a question-and-answer session. Murphy emphasized that an entrepreneurial spirit has been important to her career and will be necessary to tackle the most important health challenges facing society.
 
The colloquium was a perfect lead-in to the search for the first endowed chair position in the COH. The Ellen and Vincent Forlenza '75 Chair was created to launch the College of Health's department of health innovation and technology, where innovators will develop health applications for artificial intelligence, advance analytics and data science, and design cutting-edge devices and technologies to address urgent needs in population health.
 
"Now is the right time for Lehigh to launch the College of Health. Having spent 40 years seeing health care systems around the globe — and their challenges with access, sustainability, clinical care, chronic disease, and patient satisfaction — I think there are tremendous opportunities to solve problems and start something new," said Vincent Forlenza, executive chair of the board of Becton Dickinson (BD), an American multinational medical technology company, when the endowment was announced.
 
Murphy's full presentation and discussion can be viewed on the COH YouTube channel.
The next colloquium in the series is scheduled for October 21 at noon with Dr. Rebecca Jacobson, President of Astrata. Vince Forlenza will serve as a special respondent.  To register, visit go.lehigh.edu/pophealthcolloquium.