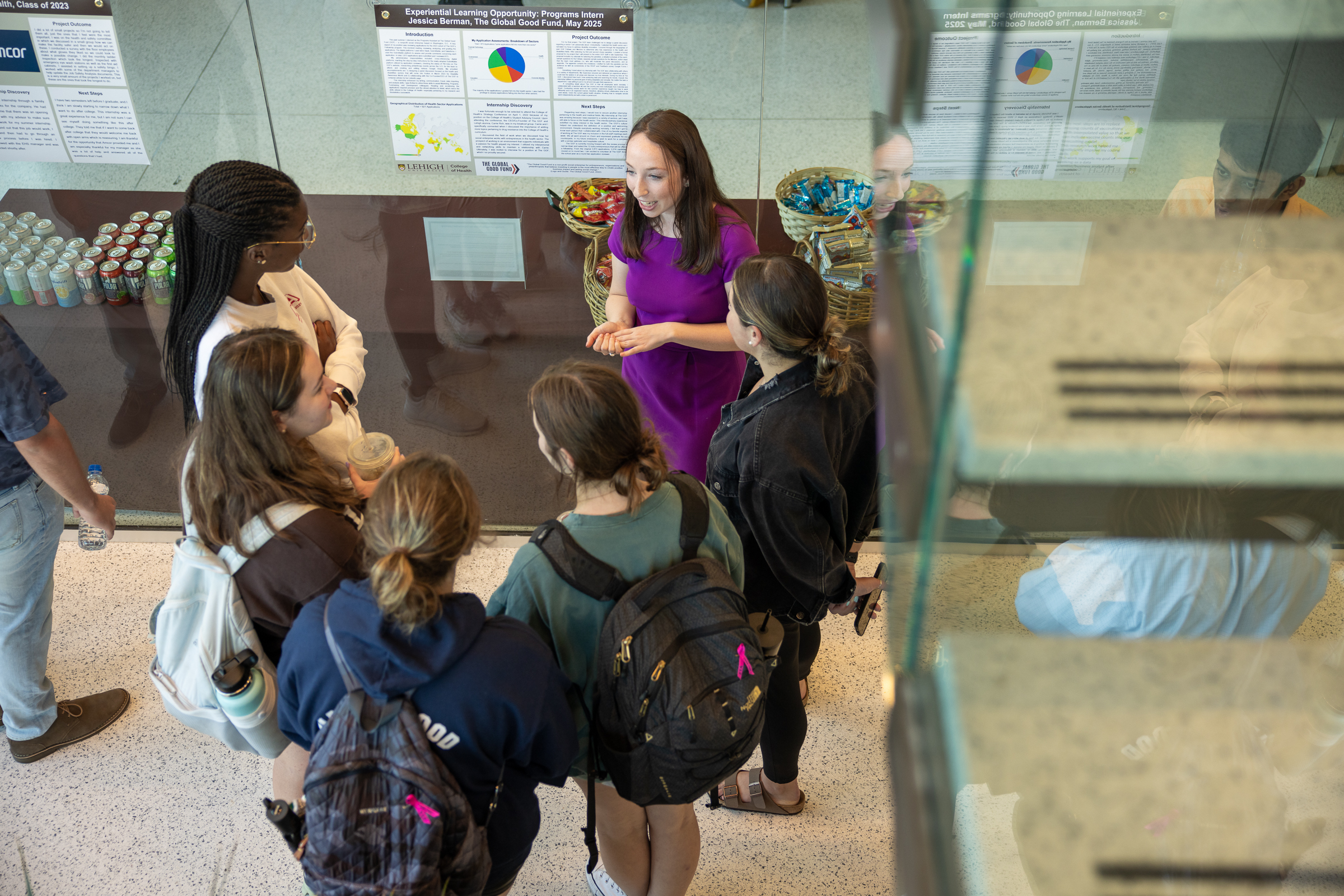 Students Present Summer Experiential Learning Lessons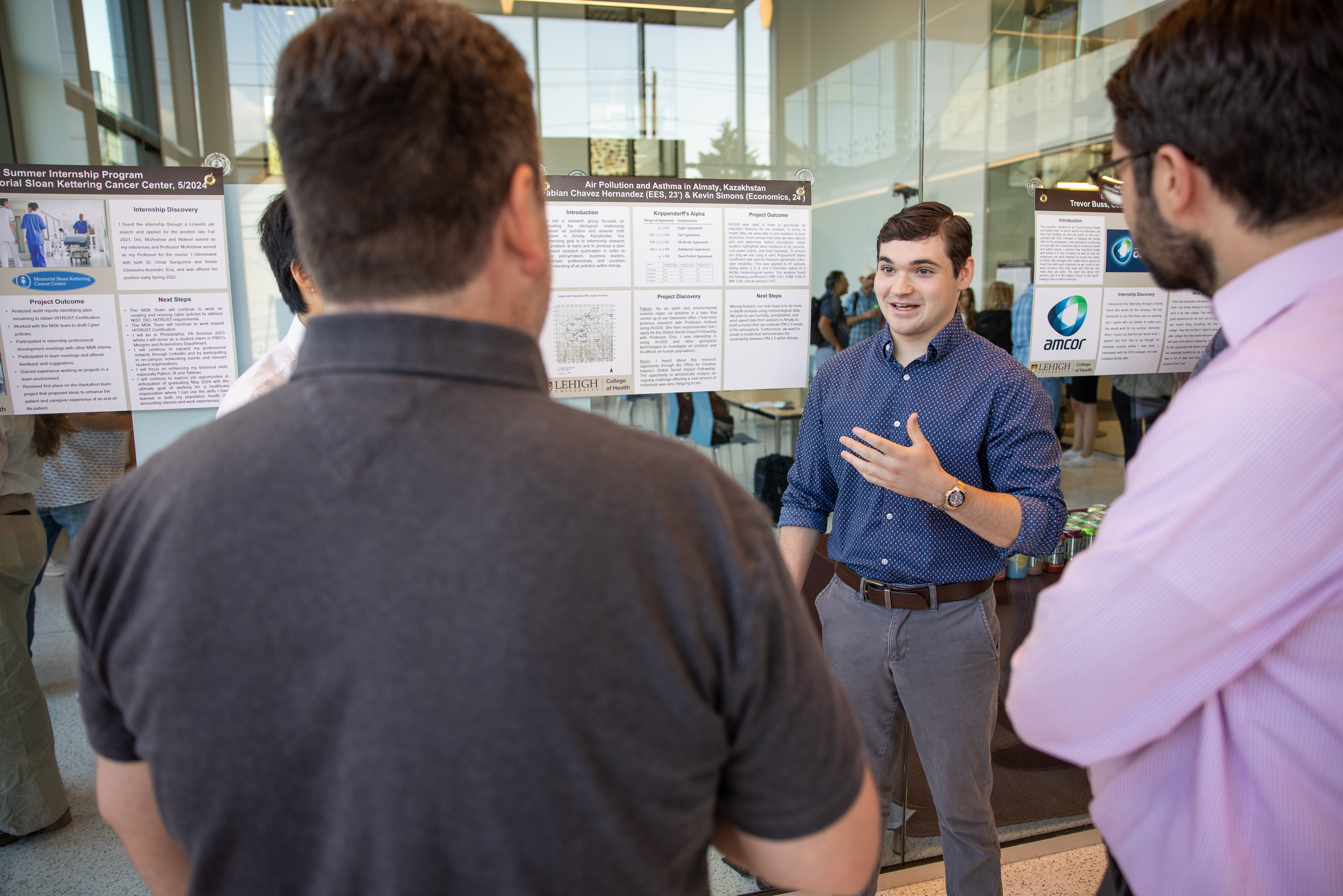 By Esha Soni '24
On Wednesday, Sept. 14, Lehigh University's College of Health (COH) held its second annual Experiential Learning & Research Symposium in the Health, Science and Technology Community Room. The symposium served as a platform for 24 students to share their summer internship, research or study abroad experiences in poster presentations and slide shows.
The event began with opening remarks by Interim Dean Dolan congratulating the students for their hard work and the passion they showed in completing their projects. Later, parents, faculty and other guests visited each area and spoke with the students or student groups about their various projects.
Heather Messina, COH's Assistant Director of Administration, emphasized the importance of holding the symposium. "The way we are thinking about health career paths is broad and when we think about the courses and programs that could be developed in the future. By having a student outlet to present, they can share their experiences and the college can help expose the audience (current or potential students) to more varied experiences in health-related fields," she said.
Presentations either focused on research, which is what Messina helped to coordinate, or experiential learning, which Jen Topp, COH student experience manager, coordinated. Together, they launched the symposium because they believe it is important for the COH students to showcase their learning experiences to the rest of the Lehigh community. "Talking about their experiences with a varied audience is fantastic for students' professional development," says Topp. "It not only gives them practice at feeling more comfortable speaking in front of others, but it also helps them to figure out how to talk about sometimes very technical information with people who perhaps have no previous experience with the topic." 
Funding for unpaid internships and research projects came from the COH through fundraising efforts to support experiential learning such as Linda and D. Brooks Zug '67, who endowed the Zug Fellowship and sponsored research grant awards. "Some students who participate in research with our faculty are not in our college, so seeing them all together was really representative of students across the university - reflecting on interdisciplinary projects funded by the College of Health," Messina said.
COH sophomore Jessica Berman presented the results of her summer internship at The Global Good Fund and wanted the audience to understand that, although the focus of her work was around health, it was also an interdisciplinary experience. Her responsibility was to review the 2023 fellowship applications as only 12 people out of 3,800 are selected to receive mentorship and targeted financial capital. Berman graded phase-one applications, which generally fell within the health sector but also other industries such as education, environment, financial technology and economics. "I really enjoyed presenting at the symposium. Not only was I able to discuss my valuable summer experience, but I also was able to work on my presentation skills. Presenting to my peers, professors, the College of Health dean, and even my mom who traveled four hours for the event was super gratifying," she said. 
Overall this event helped to reinforce the partnerships that the COH is building with the community and with potential future employers, plus the added potential for an expanded network as some students found these experiences on their own. The event was an overall success that brought the Lehigh community together to learn more about the work of public, population and global health.
See photos from the event here.