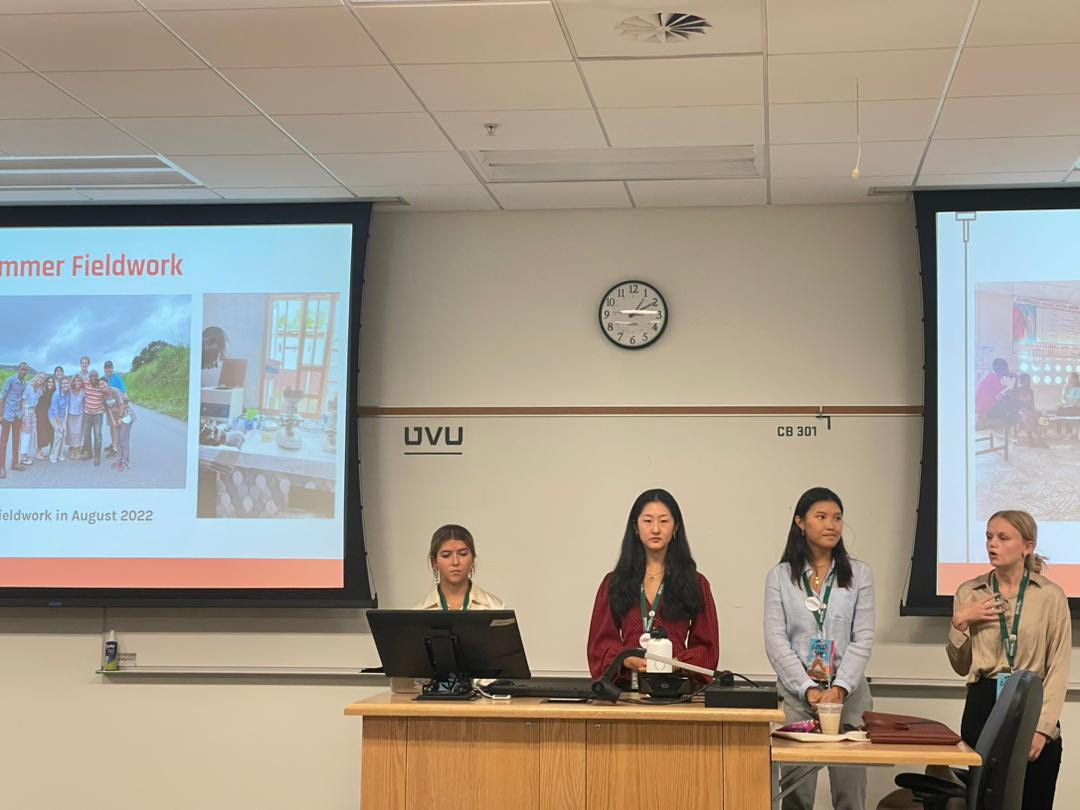 Experiential Learning through the Impact Fellowship Program
By Kareem Hargrove
Seven College of Health Students are participating in five different projects with the Office of Creative Inquiry. 

The Impact Fellowship programs offered through the Office of Creative Inquiry, guided by Khanjan Mehta, vice provost for creative inquiry and director of the Mountaintop Initiative, and Bill Whitney, assistant vice provost for experiential learning programs, have provided College of Health students with valuable experiential learning opportunities. 

The Impact Fellowships are stratified into the Global Social Impact Fellowship, the Lehigh Valley Social Impact Fellowship, Campus Sustainable Impact Fellowship, and starting in 2023, the Silicon Valley Social Impact Fellowship. Each of these programs addresses social, economic, and health development challenges through interdisciplinary collaboration and experiential learning, research, and entrepreneurial engagement among students, faculty, and external networks. 

Students gain invaluable experience working in diverse environments, designing and building systems-level improvements with the potential for mass impact, and encouraging scholarly engagement beyond the confines of academic disciplines. 

Currently, there are seven College of Health Students participating on five different project teams: Ukweli Test Strips, SicklED (Sickle Cell Diagnostic Devices), Autism Screening & Testing in Sierra Leone, Safe Motherhood in Sierra Leone, and MindFull. Each of these projects is health-based and the first four operate in Sierra Leone, a low-income country currently revisiting its health strategic planning and implementation process. 

These projects aim to assist in the development of the healthcare system in Sierra Leone (primarily in and around the Tier 2 city of Makeni) through screening and diagnostic tools for illnesses with limited services or understanding in-country. MindFull, part of the Lehigh Valley Social IF, aims to streamline mental health care service access in Allentown through community-building efforts and resource consolidation for easy use. 
The Impact Fellowships have provided COH students with a chance to apply population health concepts to realized projects and initiatives, much of which mirror necessary skills for the professional setting within public and population health careers. 
Read below to hear first-hand experiences in the program:
"I have spent the past year as a Global Social Impact Fellow where I use a lot of my knowledge from my classes in the College of Health. I am on a team focused on sickle cell diagnostics in Sierra Leone [SicklED]. There are currently minimal testing options across Sub-Saharan Africa, despite it having the most significant disease burden in the world. My team of 12 undergraduates is creating a low-cost and point-of-care diagnostic device for sickle cell disease (SCD) that will be implemented in Sierra Leone to reduce the high child mortality rate. We are currently in the design phase but I was given the opportunity to spend three weeks in Sierra Leone this past summer where I conducted a prevalence study on SCD and conducted over 100 interviews with patients, healthcare providers, SCD advocacy groups, and community members. I used practical research techniques from my Population Health Research Methods and Applications class (offered this spring!). I was also able to have a deeper understanding of the determinants of health and the structure of the healthcare system through my various classes these past few years. This trip to Sierra Leone really proved the importance of what I have learned in my COH classes and the practical applications the information can have, even as an undergraduate." - Lauryn Jones '25
"MindFull is a Lehigh Valley-centered project whose core pillars lie in community engagement, contextual specificity, and cultural sensitivity. My team works to increase access and awareness of the mental health resources available to residents in the Valley, specifically highlighting peer support networks and nontraditional therapies via an open-source website. The website was created to address the different barriers to access to mental healthcare, as identified by community leaders in interviews we had with them. We recognize the 600:1 mental health care provider-to-resident ratio and understand that 30% of the LV's population lives in poverty, so our website is specifically designed to look at the different determinants of health and promote resources that address them in a clear and concise manner.
My major in Population Health has assisted in the deeper contextual understanding of each determinant of health within the Lehigh Valley, in addition to teaching me the necessary foundation for conducting qualitative interviews with community leaders in the mental health field. I felt as though I have had numerous opportunities to discuss what an effective community initiative or healthy policy looks like, so in practice when I'm trying to create something that is as impactful and effective as those we learn in class, I feel as though it's almost second nature. My classes in Population Health have taught me to look at the institutional, political, personal, and cultural barriers at play when preventing people from actually going out and seeking mental health support, and how to create something that addresses that." - Sofía Espinoza '24 
Collectively, these experiences allow students to engage in one-of-a-kind projects, which have large systemic implications. The Impact Fellowships foster innovation that prioritizes impact and encourages students to consider larger implications.