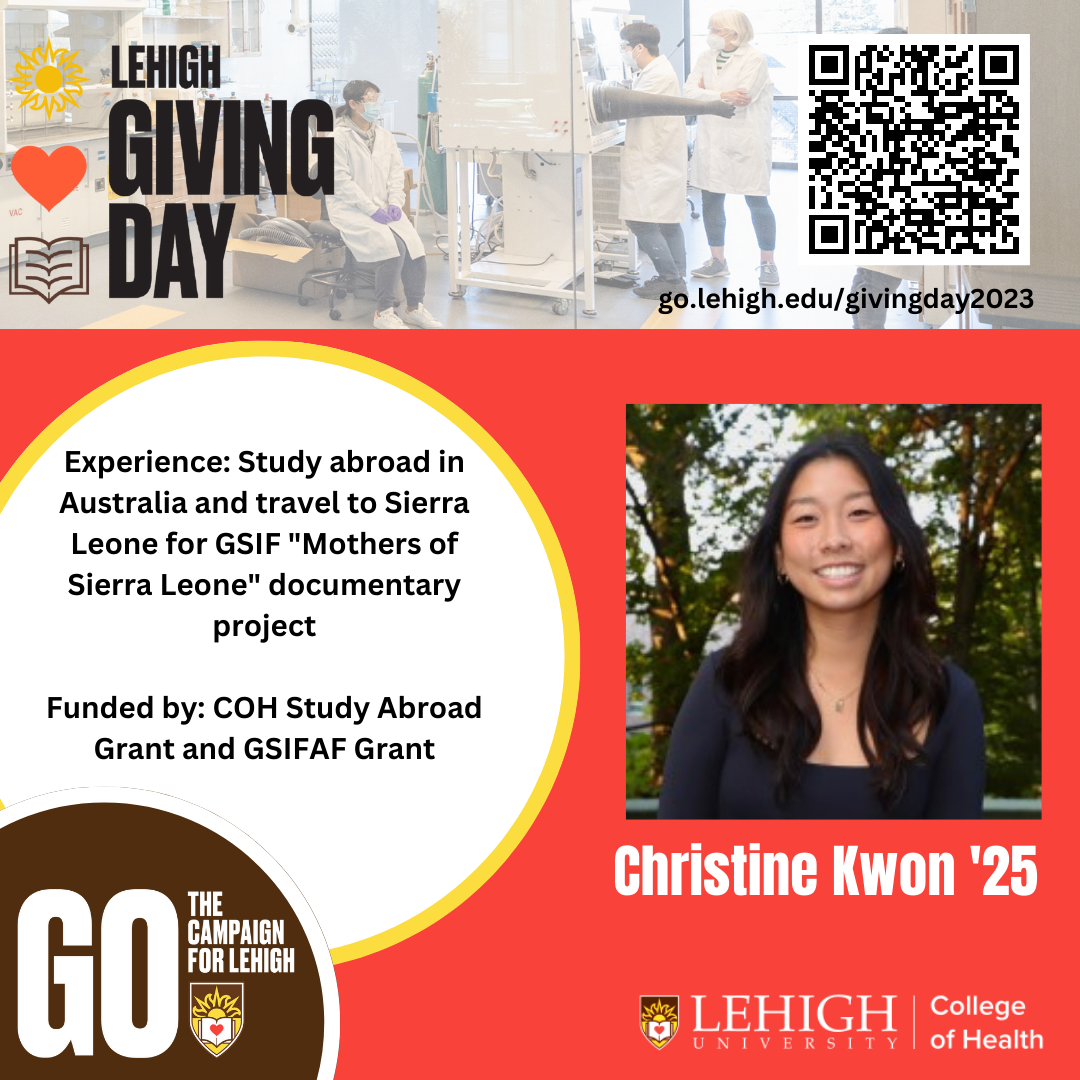 Student Experiential Learning: Meet Christine Kwon
Experiential learning opportunities for Christine Kwon '24 have taken her from Lehigh University all the way to Sierra Leone and Australia. Kwon, a Population Health major and Global Health minor, is currently in a semester abroad program at the University of Queensland. This past summer, she spent three weeks in Sierra Leone to conduct in-country fieldwork and participate in the "Mothers of Sierra Leone" documentary project, as part of the Global Social Impact Fellowship (GSIF).
Originally from York, PA, Kwon chose to study abroad in Brisbane because it has more of a "neighborhood" feel than busier cities. She's currently studying the legal and ethical principles of health, medical anthropology, and Aboriginal studies. In addition to comparing the American and Australian health care systems, she has been able to gain a new perspective through her Introduction to Aboriginal Studies course.  
Kwon's first hands-on experience happened in Sierra Leone through her in-country fieldwork and documentary project. Kwon created a short film designed to educate and encourage women to utilize health care resources that were available to them and also encourage individuals to become health care workers. She asked midwives, nurses, and public health students about what they do and what advice they would have for future health care workers and students. 
She aimed to showcase that Sierra Leone provides quality health care, they are trying to reduce the maternal mortality rate, and they're also trying to provide education on the importance of maternal health and general health care. 
Now that she is in Australia, Kwon has had a chance to reflect on her time abroad this year. "I cannot actually believe I'm here," she said. "I realized that, specifically through the College of Health I was able to experience a lot of things. The funding helps an incredible amount."
Kwon's experiential learning opportunities were supported through a COH study abroad grant and GSIFAF grant, which helps with travel and other expenses not covered through the GSIF.