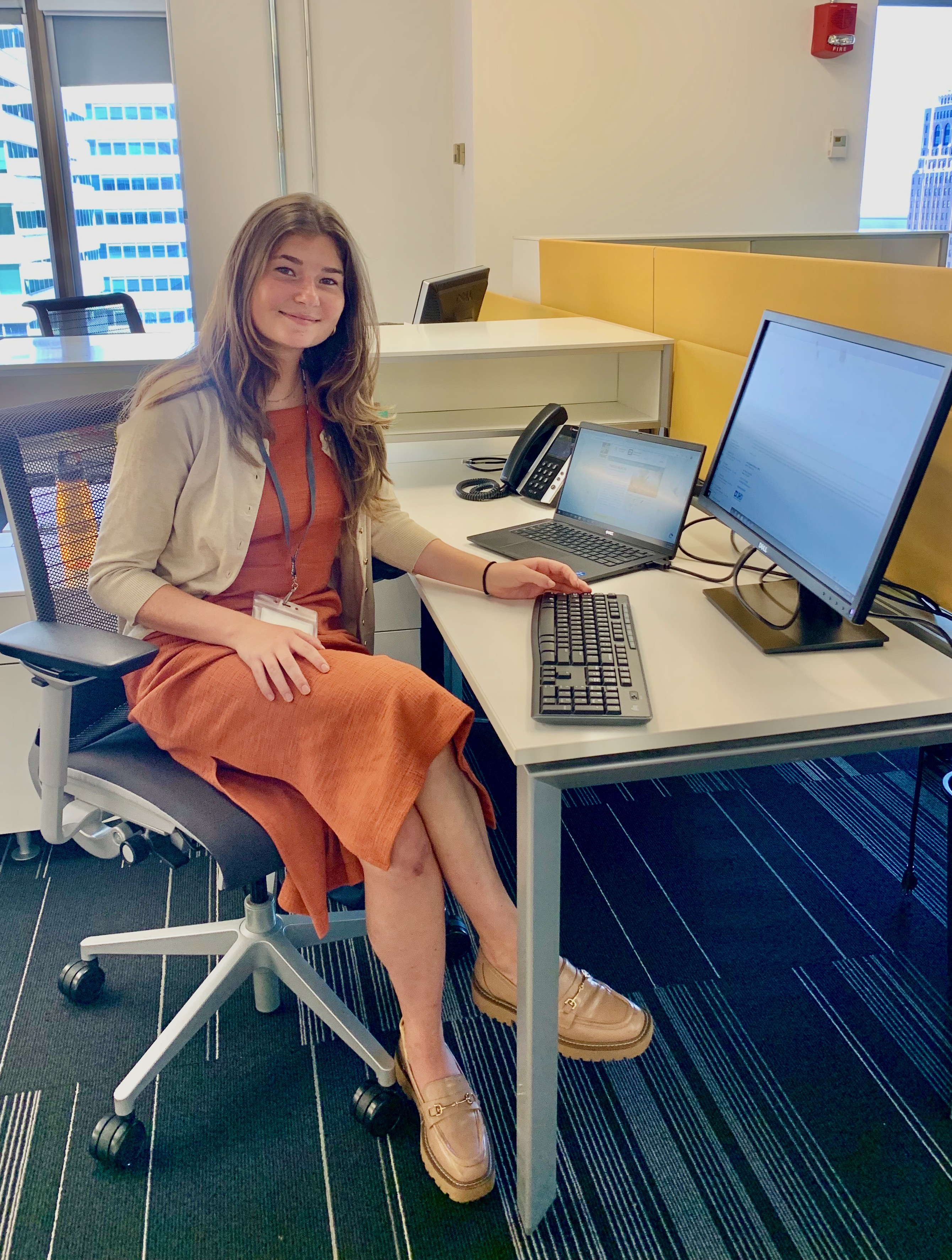 Summer Intern Shares Why Vaccines Count
Carson Snyder discovered a knack – and a passion – for telling other people's stories.
She is the first recipient of the Linda and D. Brooks Zug '67 Community Health Student Internship Fund summer award, which allowed her to hone skills she learned while pursuing her BS in Population Health at Lehigh's College of Health (COH).
"My concentration is biostatics, but I'm taking minors in communications and entrepreneurship. The internship helped me to explore them all," says Snyder, 21, from Berwyn, Chester County.   
The Zug scholarship allowed Snyder to spend the summer working as an unpaid intern at Public Health Management Corporation (PHMC) in Philadelphia - a nonprofit provider of public health resources serving roughly 350,000 clients through programs in 70 locations across Pennsylvania and Delaware.
During the internship, Snyder explains that she had the opportunity to work on a myriad of projects with PHMC. In particular, she helped to promote a $10 million grant to encourage vaccinations across Pennsylvania and Delaware. Snyder interviewed clients, crafted their stories, discussed and recorded data and produced a weekly, external newsletter, My Vaccine Counts. "Its focus is on Covid-19 vaccination, specifically in underserved populations," she said.
Working and speaking with various demographic groups that aren't getting vaccinated – and understanding what makes them less inclined to do so – is important work, according to Snyder. From exploring hygiene, food, education and medical mistrust to simply having someone to talk to, Snyder says vaccine hesitancy can be complicated - and it isn't the same for everyone.
"It's been eye-opening to be on the forefront," she says. What she learned is that younger people, or those in their 20s, are the most likely to get vaccinated. "They're motivated by school, work and external factors," she says. But for many, convenience is a big factor too. "Maybe they've gotten their first dose or don't have a ride for the second. Some would rather spend time with their friends instead of getting vaccinated," she explains.
For those in the 30-60 year range, vaccination has more to do with their identity or how they perceive themselves, Snyder discovered. "They don't want to put things in their bodies, even though they know that people are getting sick and dying," she says. Having family or friends who have become sick or have died from Covid-19 is among the biggest vaccine and booster motivation for this age group Snyder adds.
While the Zug award was a "long application process," Snyder says she's grateful for completing it and being the first award recipient. "COH did a great job at promoting financial options based on your summer situation and based on going abroad or working for an unpaid internship, which is what applied to me," she explains.
Application steps included a stop at the campus career center, attending a resume review workshop, financial options counseling, a written application response and a letter of recommendation from her current job supervisor.
She encourages anyone looking for an unpaid or small stipend internship to consider applying. "Never count them [unpaid internships] out just because they're low paying. In college, you have the freedom to explore and experience, and I think that's invaluable," Snyder says.
She said that Lehigh staff and professors have been supportive resources and that each college and program has its own "belt" of financial awards to distribute. "Lehigh has so much to offer. If you show interest and you are set on an opportunity to make things work, Lehigh will meet you to explore them. They're invested in your success," she said.
The Zug Internship award, which comes from a $1 million endowed fund, will ultimately support 10-12 COH students each year with summer stipends. The idea is to make unpaid and underpaid summer positions more accessible to students who need assistance with education, travel or living expenses while working for community organizations, nonprofits and other organizations.