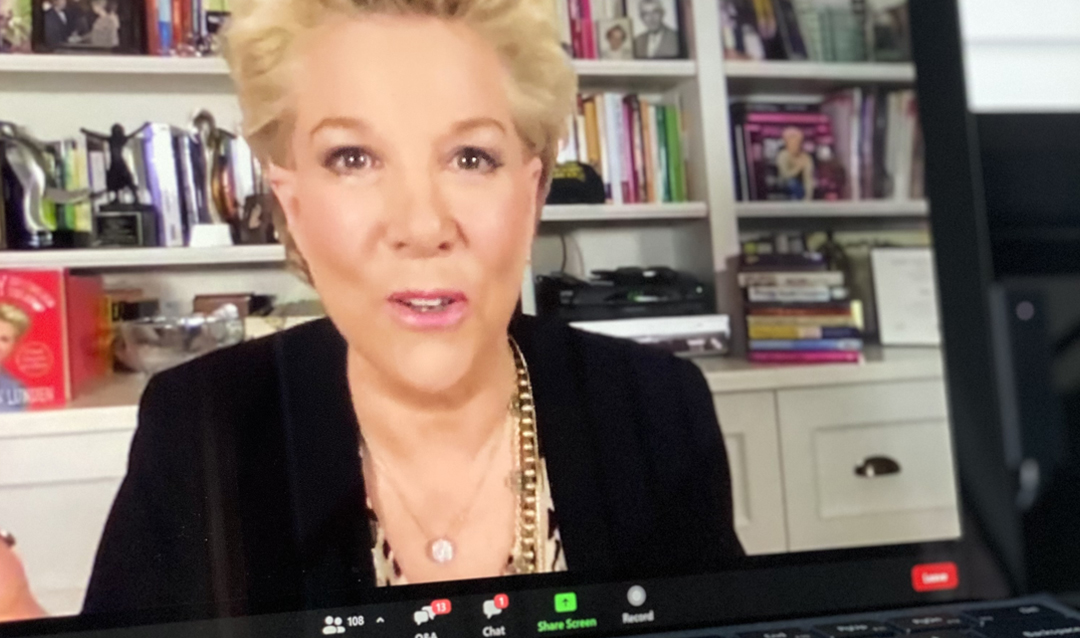 Joan Lunden on the Critical (and Changing) Role of Media During Public Health Crises
The science of population health enables us to drive the conversation about today's most pressing public health challenges and examine how its insights can advance outcomes in our own communities and around the world. Our ongoing College of Health Colloquium Series provides an opportunity to do both.
We tapped award-winning journalist, bestselling author and motivational speaker Joan Lunden to deliver a lecture on one of the defining health issues of our age: the critical role of media during public health crises. Overarchingly, Lunden's deep insights into the inner workings of the media revealed a significant need for accurate and accessible storytelling during times of crisis — and an opportunity for seasoned and aspiring media professionals alike to discover how population health can positively impact their reporting.
Read on for more key takeaways from the colloquium:
Covering the COVID-19 Infodemic
Traditional and new media have been inundated with COVID-related content, and according to the World Health Organization (WHO), an overabundance of information threatens to undermine the potential ability for technology and media to keep people safe, informed and connected. The phenomenon has a name — infodemic — and it includes intentional efforts to disseminate misinformation to undermine the public health response and promote alternate agendas of groups and individuals. 
Health messaging is critically important in a crisis, and from the politicization of mask wearing to the emergence of vaccine hesitancy, the COVID-19 infodemic has significantly impacted public officials' ability to administer the crisis response. According to Lunden, there are no easy answers or shortcuts to addressing the infodemic — social media algorithms continue to keep the public siloed into political echo chambers.
Taking on the Brave New Media World
Technological advancements and the rise of social platforms have forever changed the media landscape. Traditional and social media are now rife with political and business conflicts of interest. Cable news channels have blurred the lines between journalists and pundits. Public trust in media is, understandably, at an all-time low. 
For journalists, this new landscape presents new challenges when it comes to maintaining credibility. Lunden's best advice: investigate and report on any possible conflicts of interest when crafting stories. That means thoroughly evaluating sources of health information and scrutinizing any possible links between researchers and private companies. Failure to do so turns journalists into mouthpieces for flawed information.
Helping the Unhealthiest Generation Live Healthier
Population health insights have revealed millennials to be the least healthy generation in history. Millennials have shown double digit increases in 8 out of 10 major health conditions such as major depression, substance use disorder, hypertension and type-2 diabetes. Despite being the most educated generation, millennials struggle to attain similar levels of health enjoyed by their parents and grandparents. As a result, millennial decline in health occurs at age 27 — significantly younger than prior generations. 
Many of the drivers behind negative millennial health outcomes are obvious. As a generation, millennials came of age with high expectations, but were quickly forced to grapple with the stress of the Great Recession, high unemployment, and significant student debt. But a major factor preventing millennials from achieving better health outcomes is a lack of connection to the healthcare ecosystem. According to Lunden, health media and journalists can play a vital role in helping this generation understand the power of tapping to primary care providers and the importance of pursuing healthy behaviors with targeted and thoughtful storytelling on the media platforms that matter to millenials. 
As the COVID-19 pandemic continues to unfold, the media will continue to play a critical role in keeping the public safe, healthy and informed — and the College of Health will continue to engage today's top intellects and influencers on this important conversation. Learn more about our College of Health Colloquium Series.