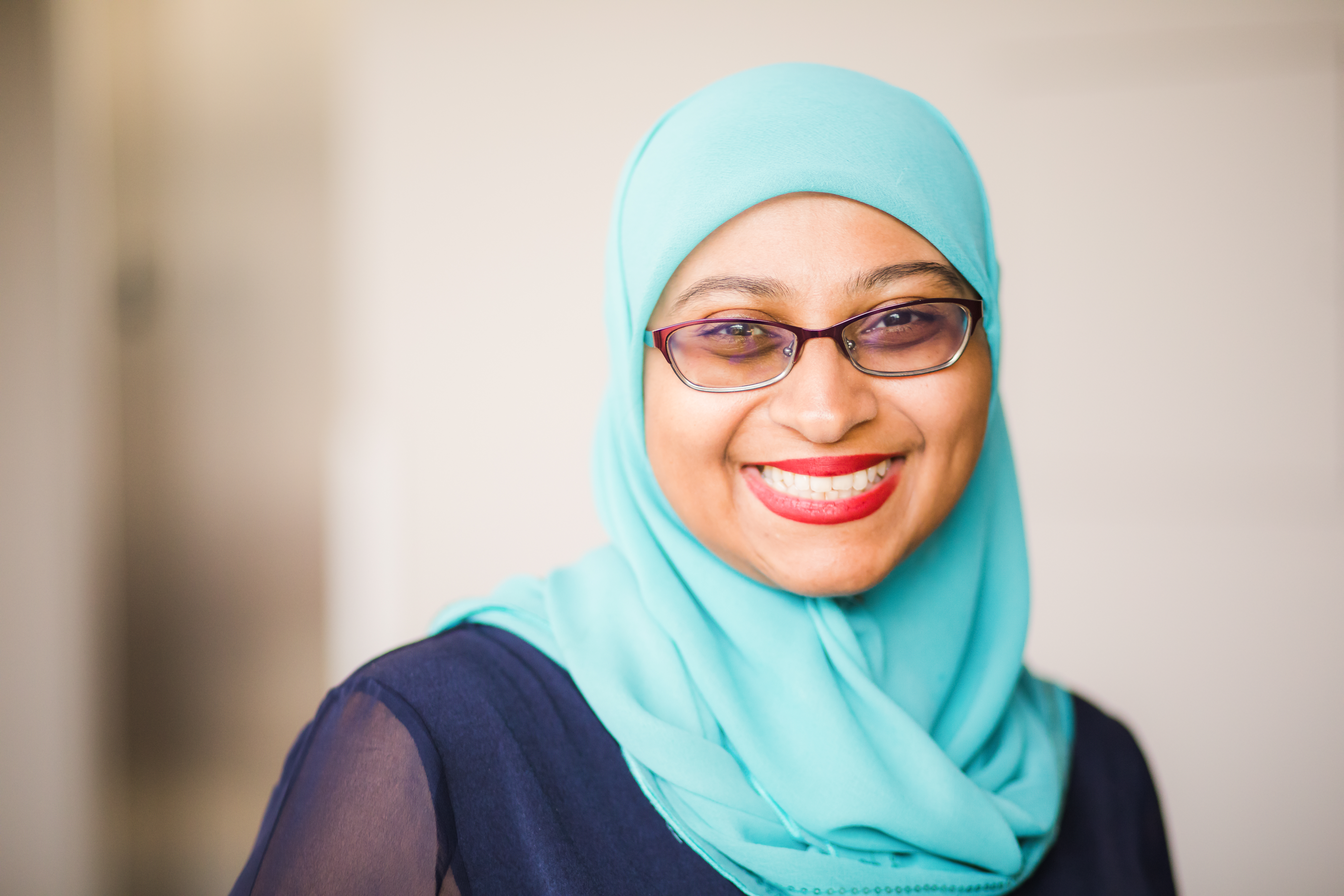 Faculty Spotlight: Fathima Wakeel shares maternal health insights on International Women's Day
Given her more than 20 years of experience in the maternal and child health (MCH) field, it was especially fitting that the College of Health's Fathima Wakeel was asked to present her work on International Women's Day in March. Wakeel, an associate professor and director of graduate programs at the College of Health, spoke at the Women in Data Science GM Multiregional Conference, an event organized by General Motors as part of Stanford University's annual WiDS Worldwide conference that features outstanding women doing outstanding work in the field of data science. 
Wakeel's research aims to reduce racial, ethnic and socioeconomic disparities in adverse maternal and child health outcomes. She focuses on something she refers to as personal capital, or the differential development of maternal resilience factors, throughout their lifetime.
Wakeel kicked off her presentation, "Framing Population Health Disparities During the COVID-19 Pandemic Using Maternal and Child Health Epidemiological Approaches," by explaining that because pregnancy increases susceptibility to viral infection, pregnant women in low-resource communities may also be at increased risk for complications with the COVID-19 infection. Women who deliver a child during the pandemic may be at higher risk for postpartum depression due to truncated time in the hospital post-birth and reduced in-person social support resources.
Children are also greatly impacted by the pandemic on a global scale. It is predicted that more than 250,000 child deaths will result from decreased availability of healthcare due to the pandemic. Meanwhile, the reduction of in-person learning in schools has led to an "increase in food insecurity, social isolation, decreased surveillance of family violence, impaired learning and reduced physical activity in children." 
Still, there are options from the maternal and child health community. Wakeel presented three foundational theoretical frameworks that can provide insights into the causal pathways leading to health disparities during the pandemic. The socio-ecological framework, the life-course approach and the weathering hypothesis can help us study and address health disparities related to the COVID-19 pandemic as well as the long-term population effects.
The socio-ecological framework of health
A theoretical model that is foundational to many of the social sciences as well as public and population health, the socio-ecological framework shows that health is determined by interactions between demographic factors, genetic predisposition and health behaviors at the individual level, social network factors (peer groups, families, friends) at the interpersonal level, living and working conditions (interactions with neighborhood, school, work and community organizations) at the community level, and the broader socioeconomic, cultural, social, healthcare and environmental conditions and policies at the systems level. 
In addition to conceptualizing the determinants of health, this framework can be used to envision multiple points of intervention to prevent the risk of experiencing a health problem, such as COVID-19, as well as address its multifaceted impacts on the population. Wakeel urged for the development of multi-pronged public health and clinical strategies that address the multiple determinants and impacts of a health problem. Because improvements made at the systemic level yield the most sustainable and wide-reaching impacts on the population, systemic changes have been shown to generate downstream improvements as well.
The life-course approach
The key foundational perspective that informs maternal and child health research and practice, the life course approach, essentially expands on the socio-ecological framework by incorporating the dimension of time. This approach suggests that a complex interplay of biological, behavioral, psychological and social protective and risk exposures that occur as early as gestation can contribute to health outcomes across the entire life span and even intergenerationally.
Wakeel explained that if we apply the life course approach to the impacts of the COVID-19 pandemic, we can consider how the physical health, mental health, social and socioeconomic repercussions of a COVID-19 diagnosis — or exposure to the pandemic in general — may shape one's health over the life course. This approach also suggests that there will likely be pronounced, multifaceted and long-lasting implications for individuals who are experiencing the pandemic during a critical and sensitive time in their life course, such as gestation, infancy, early childhood, the school-age years and adolescence. 
The life course approach conceptualizes how COVID-19 operates not only as a potential health outcome that disproportionately impacts certain populations, but also as a stressful life event that exacerbates existing negative determinants of health that vulnerable populations already experience, and consequently, further widens these health disparities.
The weathering hypothesis
Originally developed to explain the significant disparities in adverse birth outcomes among African Americans and Whites, the weathering hypothesis, expands on both the socio-ecological and life course models to elucidate the causes of premature mortality and morbidity among African Americans. The weathering hypothesis theorizes that African Americans experience accelerated biological aging due to cumulative exposures to stressors attributable to adverse social, economic, environmental and political conditions. This hypothesis further posits that frequent exposures to stressors result in continuous, high-effort coping responses at the physiological level, which negatively affect health. 
In a recently published paper, Wakeel proposes an integrated weathering framework to depict predicted relationships between racism, stigma, COVID-19 and health outcomes among African Americans. She concludes that COVID-19 plays two key roles in the conceptual framework. First, a COVID-19 diagnosis is a health outcome, and widespread evidence has indicated that African Americans have significantly higher rates of COVID-19 cases as well as greater case-fatalities when compared to Whites. Second, the COVID-19 pandemic, regardless of disease status, is a stressful life event that results in experiences of stress and has a bidirectional relationship with the determinants of health. Wakeel hypothesizes that vulnerable individuals who have already experienced chronic exposures to the negative determinants of health will be more likely to perceive the pandemic as stressful, as they may not have adequate protective resources to withstand the adverse impacts of the pandemic without experiencing significant health implications in the long term.
Future-thinking thoughts
Health never ends. Although the pandemic will resolve, its effects will linger on. To that end, Wakeel called for proactive action ranging from longitudinal research investment to a systems thinking approach to COVID-19 analysis that captures a comprehensive picture of the long-term impact of this situation on health equity and resilience.
__
Keep the conversation going. Sign up for the College of Health's e-newsletter, Health Outcomes, to stay up-to-date on the latest faculty research and virtual event offerings.