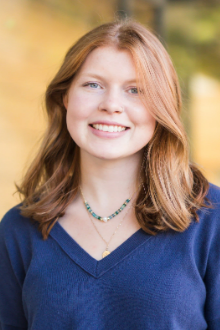 COH student Abby Bryer '23 speaks at 44th Honors Convocation
By Esha Soni '24
On Sept. 16, 2022, Lehigh University held its 44th honors convocation ceremony where 270 seniors were recognized and celebrated for their high academic standing and achievements in Baker Hall of Zoellner Arts Center. Students with a cumulative 3.8 GPA or higher were invited and recognized. The celebration was then followed by the Brown & White BBQ on the Clayton University Center lawn.
The ceremony began with remarks from provost and senior vice president for academic affairs, Nathan Urban and deputy provost for academic affairs, Jen Jenson.
Abby Bryer, senior in the College of Health, who will graduate with a B.S. in population health with a concentration in biostatistics and a minor in maternal and child health was asked by Jensen to give a speech for the ceremony. Bryer said, "I was asked because of my GPA, but also because of some of the research opportunities and extracurricular events I do, and to represent the new College of Health."  
Bryer explained how the speech was supposed to focus on her time at Lehigh. She said, "Much of my experience has been getting to the College of Health and the classes and research projects within it. I decided to kind of focus on how my freshman year, I didn't totally know what to do and that was before the College of Health had opened. And then how during the COVID pandemic, the College of Health opened and that kind of inspired me to take some courses and ultimately led to me transferring in and continuing with that."
Bryer gives a lot of thanks and recognition to the COH for allowing her to grow and find her passion. She mentioned how without the COH she did not think she would be able to get such recognition for her academics and was grateful she had the opportunity to represent the COH in her speech.
For more information about the 44th Honors Convocation, check out the linked article: Fall 2022 Honors Convocation Recognizes Students' Academic Accomplishments
- Esha Soni '24