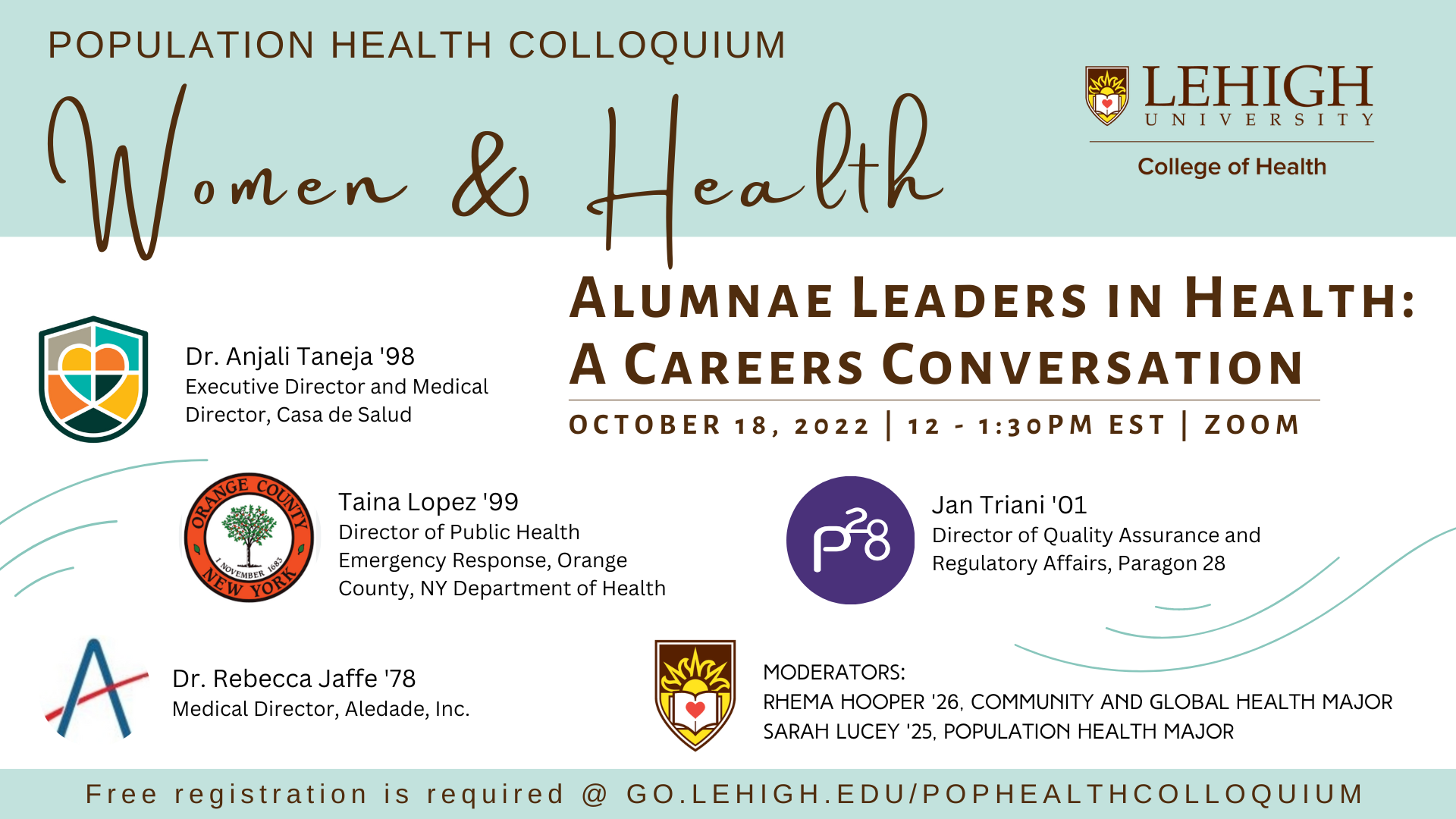 Alumnae Leaders in Health: A Careers Conversation
By Esha Soni '24
Video link

On Tuesday, Oct. 18, 2022, the College of Health (COH) continued its population health colloquium series on Women & Health with a presentation by a panel of alumnae leaders. Dr. Anjali Taneja '98, Executive Director and Medical Director, Casa de Salud (http://www.casa-de-salud.com/), Taina Lopez '99, Director of Public Health Emergency Response, Orange County, NY Department of Health (https://www.orangecountygov.com/), Dr. Rebecca Jaffe '78, Medical Director, Aledade, Inc. (https://www.aledade.com/), and Jan Triani '01, Director of Quality Assurance and Regulatory Affairs, Paragon 28 (https://paragon28.com/) spoke about their career path and their current roles to an audience of approximately 50 students, faculty, staff and fellow alumni. 
Moderators Rhema Hooper '26 and Sarah Lucey '25, both COH students, facilitated the panel by asking each panelist a series of questions, some which were proposed by attendees.  
Lucey said, "I thought the colloquium was very eye opening as it allowed me to hear from the experience of various alumni. They shared valuable information and recommendations for undergraduate women pursuing careers in health. They encouraged us students to pursue all opportunities out there for us and to always try new things. They often mentioned how they wished they had a College of Health when they were at Lehigh and it made me feel grateful for the environment Lehigh has been able to foster for us women in health." 
There was emphasis on having a collaborative approach towards healthcare rather than having one specific viewpoint or perspective. Jaffe said, "Looking at healthcare in a broader lense helps frame a healthier environment for everyone to thrive in."
The colloquium also highlighted the importance and need for medical devices at the right time for their patients. Hearing Triani discuss the paperwork and behind the scenes action to get proper medical devices for their patients showed that it takes a lot of time and work. Healthcare workers are trying to find ways patients can get personalized medical devices that can overall improve their health and be benical for the doctors and manufacturing companies.
Lopez discussed public health issues and the importance of spreading accurate information to different communities. Her example was the COVID-19 pandemic and we need to listen to the clients and make sure healthcare officials are giving accurate information that is not confusing.
The mediators curated individual questions towards the panelists, starting with Triani and how she started off as an engineering major at Lehigh to now working in healthcare. She gave credit to Lehigh for giving such an amazing academic experience. The skills she gained from Lehigh helped her in her career today. 
Taneja discussed the combination disciplines in healthcare. She gave an example on how clinicians are integrative healings, mixing Western medicine and the best of Eastern and energy medicine. This gains a lot of trust from patients in communities who do not necessarily follow Western medicine. Taneja now leads a non-profit model incorporating various kinds of healing.
Jaffe was asked about her BA/MD and how it made her stand apart from other physicians. She mentioned that her Lehigh experience gave her a diversity of opportunity and resources that broadened her education and view of the world. Her time at Lehigh gave her the ability to go into family medicine and help communities get the healthcare they need.
Lastly, Lopez was asked for her thoughts on the global perspective and how it formed from Lehigh's influence and studying abroad. She talked about her freshman year experience in Mexico and how that opened her eyes to wanting to experience different places around the world. She emphasized her time in Switzerland where she felt she got to see a mixtures of culture in one place and realizing how much that plays a role in healthcare
Overall the panelists gave great insight on the healthcare industry, their journey,  and emphasized optimism for the future of healthcare.